Linkin.bio vs. Linktree: Which Instagram Profile Link Tool Should You Use?
There are many Instagram profile link tools out there, so I'm breaking down the pros and cons of two of the most popular ones: Linkin.bio and Linktree.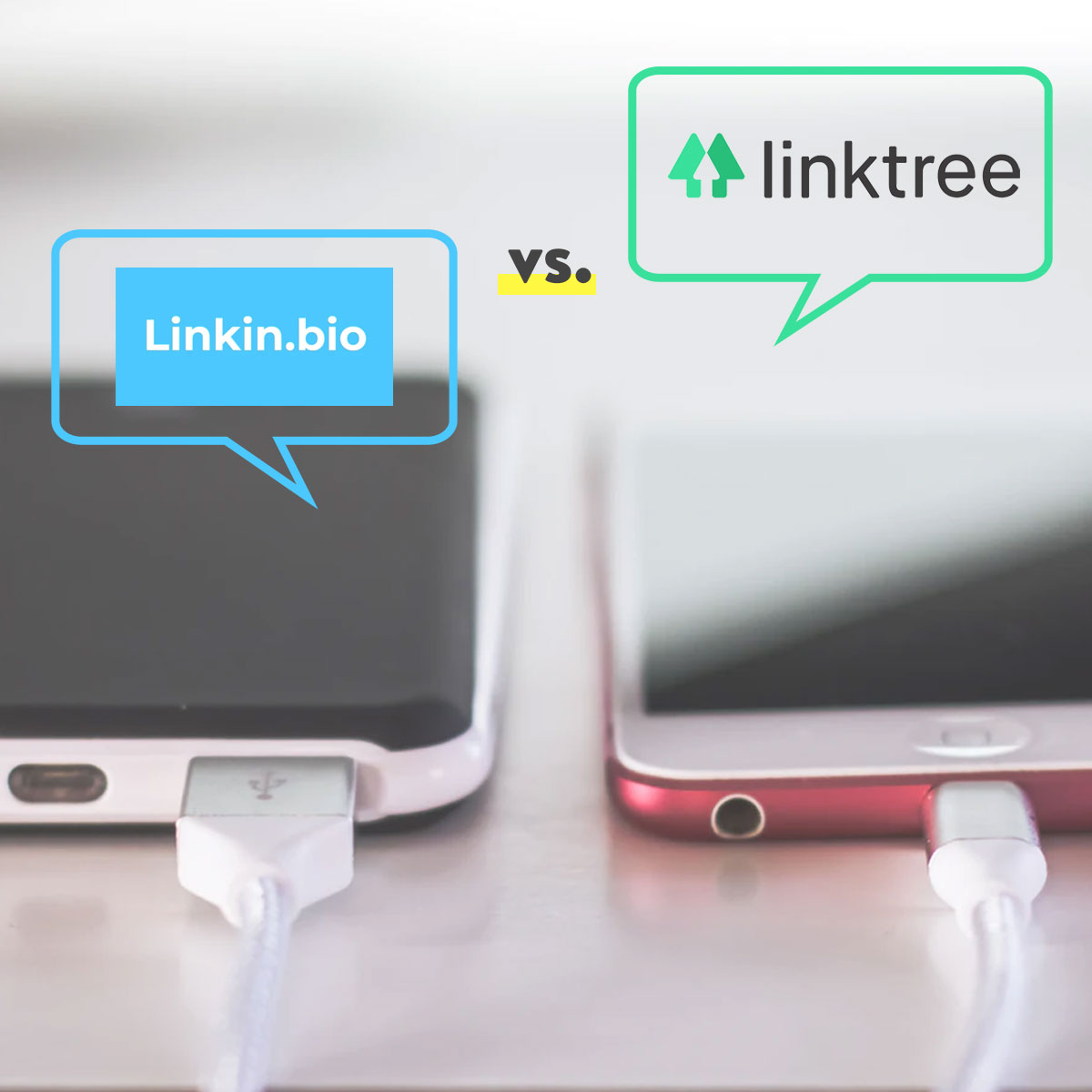 The top question I get asked when I teach on Instagram marketing is Later vs. Planoly – which planning tool should I use? My blog on that is now officially the top-visited blog on my site!
The second most frequent question? What link-in-bio tool should I use to drive website traffic? This blog is going to answer that, so buckle up!
There are plenty of options out there for you (and I list them at the end of this blog), but the top two players in the Instagram profile link space are:

Both tools are good options for your profile link tool, but which one you choose will depend on your business type, your audience, and your ultimate goals.
First, I'll introduce you to each tool, share some pros and cons, discuss what kind of business may prefer each, and finally wrap it all up with what tool I personally have chosen to use and why.
Want my Instagram marketing checklists? Snag my 9 simple checklists and a list of 21 of my favorite tools to help you create an effective Insta-strategy. Download it for free here.
So, first things first, let's start with a simple, yet foundational question…
Why do you need a 3rd-party Instagram profile link tool?
Simply, because the one website URL Instagram gives you natively is often not enough.
Yes, you can change your one alloted URL regularly as you have new things to send people to, toggling back-and-forth between that and your link tool depending on what you have going on. And of course, there is always linking on individual Stories IF you have more than 10k follows, but those disappear after 24 hours.
If you're sharing multiple calls-to-action closely in time, a third-party profile link tool is often the best choice.
Link tools are especially useful if someone sees your feed post two days after it's published and then gets confused when they do what you tell them to do (go to your link in bio to read a blog about email marketing) but instead, it takes them to a video about SEO. They could easily not be interested, click away, and then you've lost their attention.
That being said, there is one other question we have to address before diving into tools…
Could I just create a page on my website with multiple links instead?
Sure! There are many businesses who decide to do this, emulating the style and look of 3rd-party tools, like this: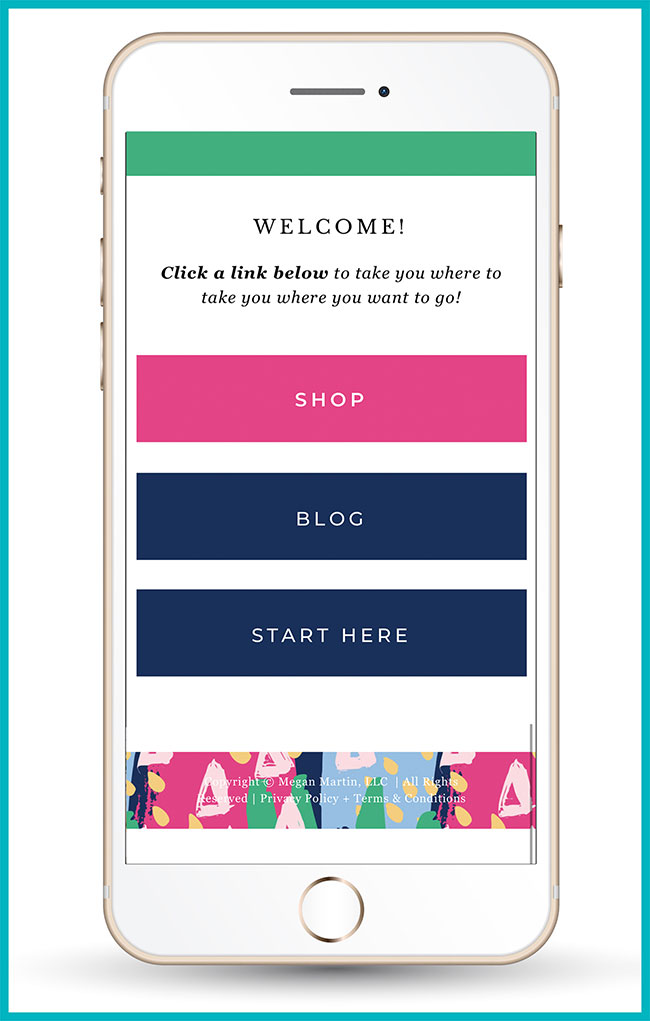 But to do this, you must be technically savvy or work with someone who is. Not all biz owners and entrepreneurs have these resources. Or, as you'll learn below, they want more robust features that a link profile tool can provide.
Although I've seen blogs out there arguing that doing this on your own website is the smartest option for numerous reasons (SEO, branding, tracking, etc), I don't necessarily agree with their reasoning, which I won't go into detail here.
Just know that third-party tools do all the things you could do on your website but easier, and with less of a learning curve or strain on your wallet if you're not a web guru yourself.
It's really up to personal preference, and we'll dig into some of the features that make these tools a dream, starting with one of the first link tools to come on the scene.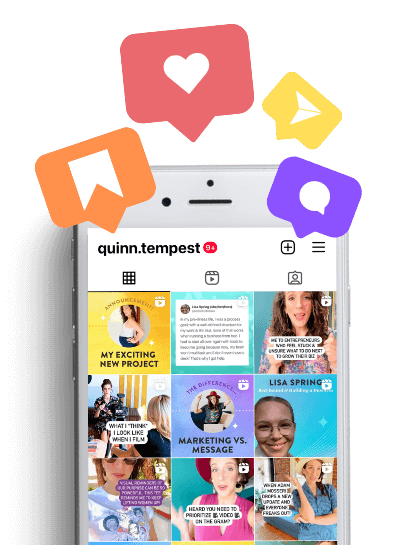 Sign up for my free video training to learn how to reverse-engineer the algorithm and drive real business results ($$$) from Instagram... no matter your follower count!
Linktree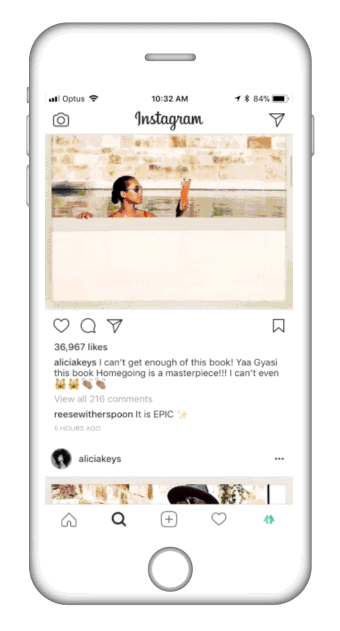 Linktree is one of the first link tools ever created to combat the challenge of Instagram users wanting to share more than one link, and it's still going strong.
With one link, you can guide your followers to a simple landing page that is customized with your favorite theme or even your own branding.
Once there, users have the option to choose from multiple links – whether it's a newly released podcast episode, a blog post, your campaign landing page, and more. The number of links allowed is unlimited, but I don't recommend adding more than a few at a time depending on what posts you've got going on – you don't want people to get confused with irrelevant or outdated links.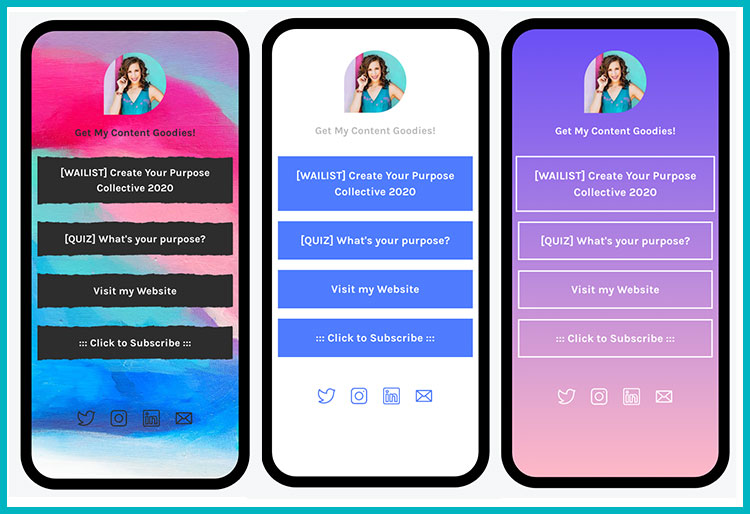 Pricing
There is a free plan, which I recommend everyone try as you're deciding on which link in profile tool will be best for you. It has all the basics you need to get up and running.
The premium plan, priced at $6/month, opens up lots of opportunities for customizability and insights. To name a few benefits, you get:
More control over the branding of your link page
Removal of the Linktree logo
Option to add thumbnails to your links
Access more analytics
Sleek opt-in box right that integrates directly with Mailchimp
Scheduling of links (to go live and expire)
The free Linktree account is great too, but with such a small cost for a powerful tool, the paid version could be worth it if Instagram is a true powerhouse of a marketing channel for you.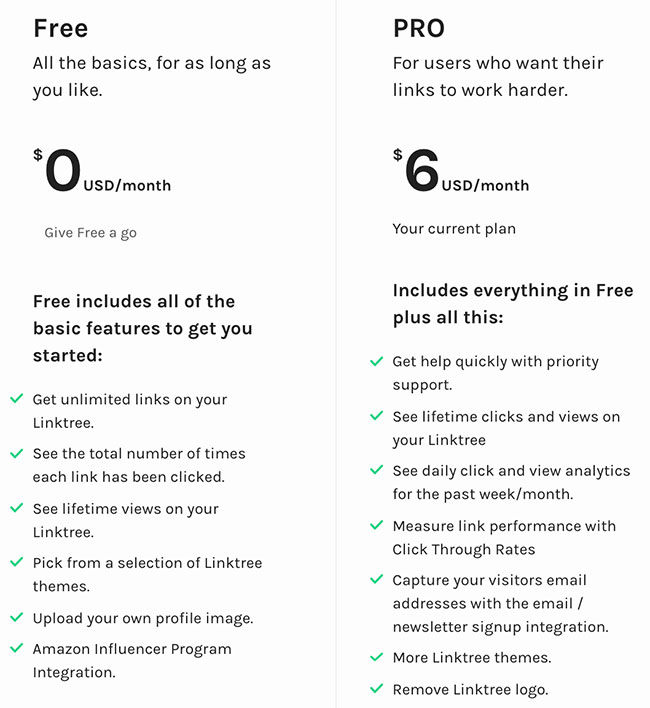 Pros
Connect Google Analytics and Facebook Pixels to get even deeper tracking (paid)
Amazon Influencer Program integration (free)
Temporarily send visitors to one link with "Leap Links" (paid)
Highlight your most important links with subtle animations that grab the eye (paid)
Simple, intuitive interface that anyone could learn
Cons
No Shopify integration
Doesn't link directly to Instagram posts (like Linkin.bio)
Limited customization options with the free version
Basic analytics on free plan
Not a branded link (e.g. yourdomain.com/link) but you could easily set-up a redirect if you want this
Want my Instagram marketing checklists? Snag my 9 simple checklists and a list of 21 of my favorite tools to help you create an effective Insta-strategy. Download it for free here.
Linkin.bio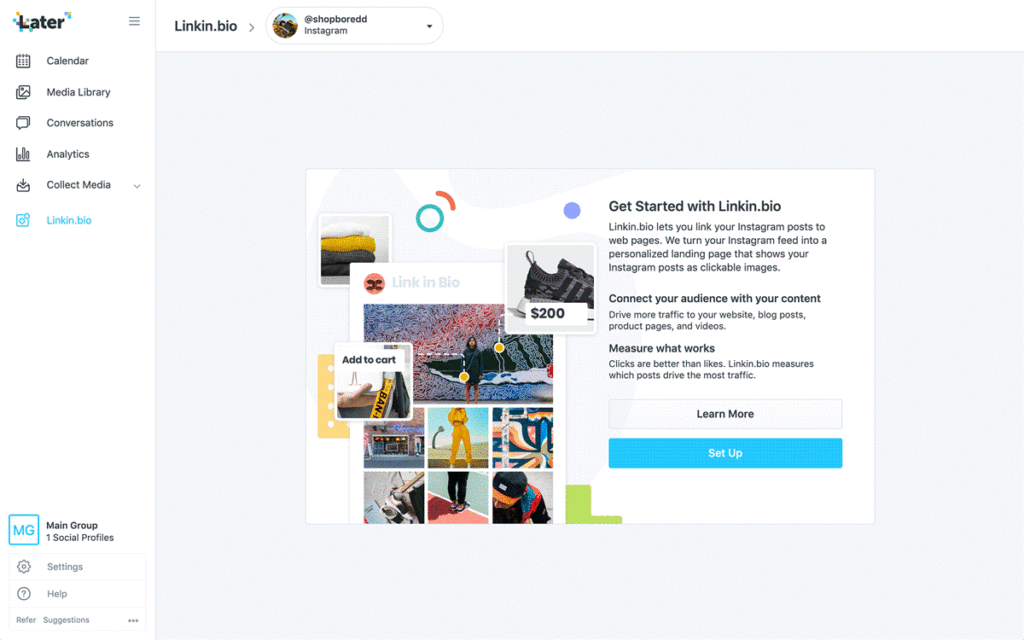 Linkin.bio comes from Instagram planning tool, Later. Later is my go-to scheduling and publishing tool (and a verified Instagram Partner), so it's pretty cool that this profile tool is built right into it! You can read my Later vs. Planoly review here if you're interested in learning more about the scheduling side of things (spoiler alert: I went with Later).
Linkin.bio is unique in how it presents links on your landing page because it looks identical to your Instagram grid.
This tool allows you to create a clickable, optimized landing page. If a follower is looking for a product you mentioned in a post a week ago, all they need to do is click the link in your bio and look for the image for the post you mentioned it in. The nice part is, they can scroll back as far as they need to and find what they are looking for. It's visual and simple!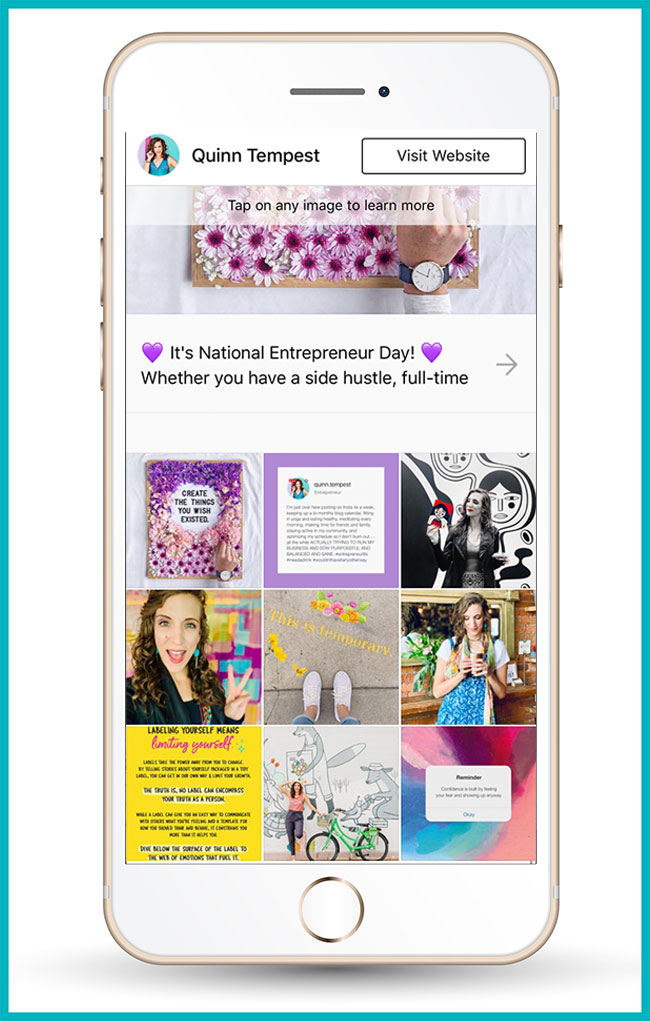 Pricing
Linkin.bio Lite was just announced in the fall of 2019, and is totally free! With this, you also get access to the Later tool with basic planning capabilities. Also, when you schedule your posts using Later, you can attach a link with the media at the same time and it will auto-publish all at once!
The Linkin.bio Pro plan gives you even more possibilities when it comes to driving your followers to content, and it is priced in tiers starting at $19 a month. Since this is bundled with the main Later tool, paid plans also include the full suite of scheduling and analytics capabilities, which – in my opinion – is more than worth it (I'm on the $19/month plan).
With the Pro plan, you'll gain the ability to add multiple links to each post and a big bonus for e-commerce businesses is direct Shopify integration.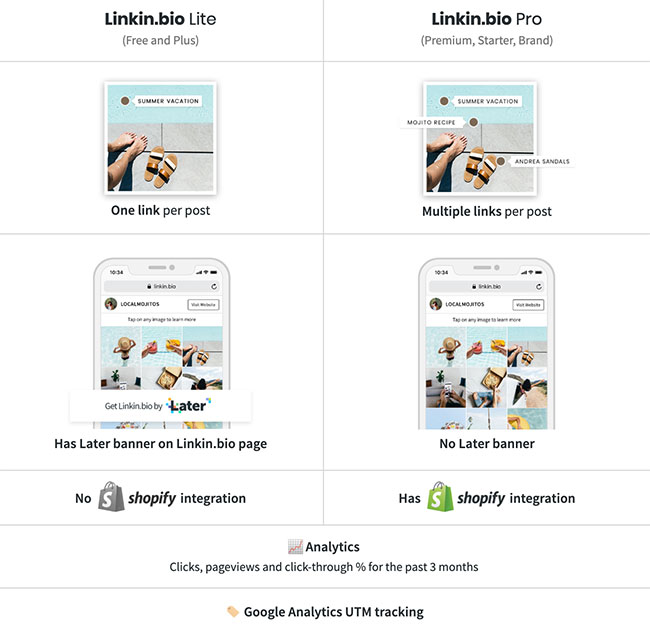 Pros
View Linkin.bio analytics for the last 3 months
Add a dedicated link to a url with a customizable CTA
Google Analytics integration to track sales and conversions right from your links
UTM tracking in Google Analytics
All of Later's other scheduling capabilities
Add multiple links per post (paid)
Shopify integration (paid)
Cons
No option to add additional branding
Can't change the order of posts
Can't customize the blocks of links (paired to Instagram only vs. allowing you to link out to other social like a landing page)
Linktree vs. Linkin.bio Outcome
The question here isn't necessarily which tool is better because both provide a robust Instagram link in profile system. Instead, the question is: which tool is right for your business? I hope the features detailed above gave you a good idea of which platform's features would be the best fit for you, and the best way to decide is to test them both. To give you a nudge, here's a further exploration:
Linktree
Linktree is simple and intuitive. It seems to be well-suited to entrepreneurs, business owners, and content creators linking to blogs, podcasts, and other various content. If the ability to have people match the visual post with a link isn't important, then the text links work just fine. If you're looking for sign-ups and conversions, the simple opt-in box right in the link profile can be a great way to reduce friction and increase leads.
Linkin.bio
Linkin.bio is pretty unique in the way it displays links as a mirror reflection of your Instagram grid. Bloggers, influencers, and B2C product companies may prefer Linkin.bio because showing an image is helpful when linking what they're wearing, products they're promoting, or any other items that may be specifically mentioned in that post. It is also great for shop owners looking to translate views and any interest in products directly into sales.
My Tool of Choice
I have chosen Linktree for my own personal link in profile tool. Although, I do toggle between using one URL and my Linktree page depending on how many things I'm promoting at a certain time.
Since I mainly push out written content, it was naturally the right choice for me. I also tend to batch my content, so the scheduling and expiration of links makes it really easy for me to stay ahead of the game.
Lastly, a big goal for my Instagram is to drive email sign-ups, so the ability to have a Mailchimp-integrated opt-in form right on my link page along with subtle animations to highlight campaigns was huge. The price is well worth it since Instagram is my main marketing channel.
The being said, I'm a huge fan of Later and I truly think Linkin.bio is worth a look as you're testing things out. The paid version comes bundled with their entire scheduling and planning suite, and as I mentioned in this blog post, planning your Gram ahead of time with this tool is a game-changer! Later is my personal Instagram planning tool and I recommend it to all my clients and workshop attendees. If your business is more visual-oriented, you surely won't be disappointed with Linkin.bio!
Other Instagram Profile Link Tools Worth Mentioning
Interested in what else is out there? Here are a few more notable tools that seem to be popular:
Free Instagram Training!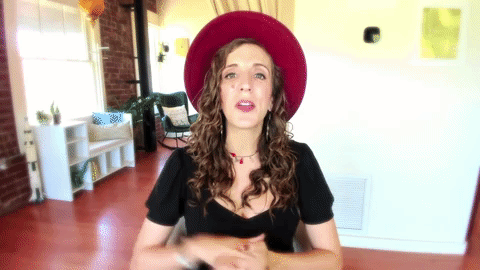 Learn how to STOP ghosting your audience and START posting consistently on Instagram *without* burning out.
Sign-up to get instant access to the training: