10 Types of Effective Instagram Captions (with Examples + Tips!)
Writing Instagram captions is truly an art and it can be daunting, too. Keep reading for 10 types of effective Instagram captions, along with examples and tips on how to incorporate them into your strategy.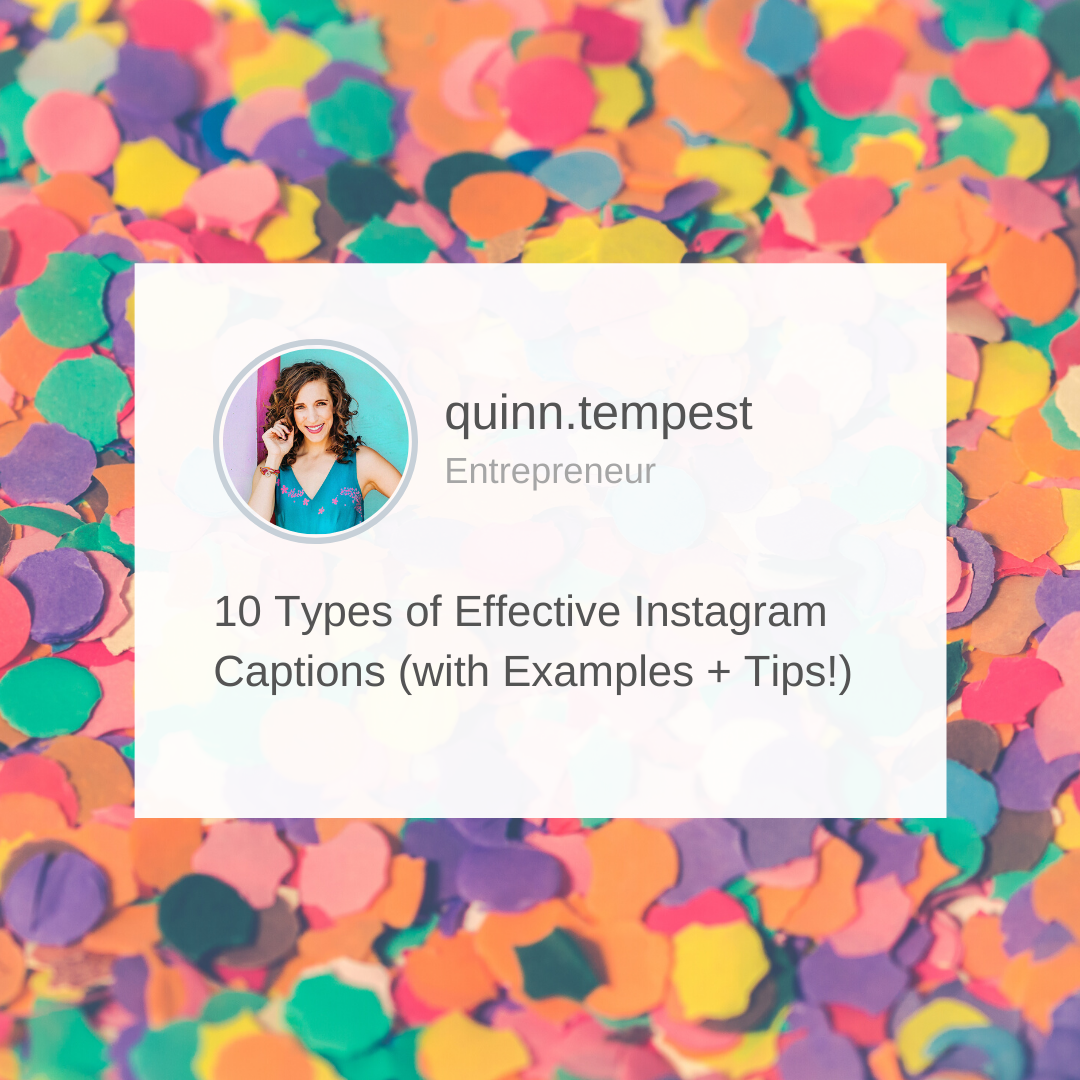 It's a known fact that there is an art to writing effective captions for Instagram. It's a talent, even! Coming up with the visual is sometimes hard enough, and THEN you have to think about what to say to accompany it. Some entrepreneurs and brands thrive with doing so, but for many more, it can be a daily struggle.
To help take the pain out of the process and write effective Instagram captions, I've pulled together for you:
10 major types of Instagram captions
20 real-world examples of these captions in the wild
10 tips on how you can implement each type for your brand
Read below for what I hope will be a major dose of inspiration and reference material for you when you feel stuck. And yes, if you're wondering, the naming structure follows after the "Friends" episode naming style ?
1. The One that Feels Like a Micro-Blog
In a time where the algorithm has many people frustrated, many Instagram users are beginning to realize that it isn't all about the number of "likes" a photo gets, but more so about the number of saves.
This is where microblogs – or long-form captions – come into play. These captions offer users information that they'll want to save for later, whether it be a product announcement, helpful tips, new recipes, or inspirational stories.
Examples
Tip: If you're going to do a long-form caption, break up the wall of text with line breaks or emojis (if they're on brand), and even font formatting like bold and italics with simple tools like this one.
2. The One that is Timely and Relevant
Even in times as tumultuous as now, your audience likely wants to hear your thoughts on what is happening in the world. (I'm looking at you, coronavirus.)
Even if it's something as simple as a status update from the city you're in, followers take comfort in knowing they're not alone and oftentimes look to people and brands as role models for advice on what they should be doing. The simplest of updates, such as "I'm doing well," and "No need to panic," can give a follower the smallest bit of relief they're looking for.
Examples
Tip: The best tip I can give with this caption type is to be authentic, be empathetic, and be of service in whatever way you or your brand can be right now. And if you're not ready to say anything at all yet, that's okay, too.
3. The One that is Clever or Funny
What can I say? Humans on Instagram love anything funny and relatable. After all, that's why memes are sooo popular. Don't be afraid to poke a little fun at yourself or your brand, or tell a funny tidbit about what went on behind-the-scenes of the making of the image.
Plus, puns, sarcasm, plays-on-words, and jokes make great captions as an offset to a more serious photo, or really anytime you just aren't sure how to caption your post.
Examples
Tip: Every brand or biz needs to find their unique tone and voice with these kinds of captions, not opting for jokes or puns that aren't "on brand" but instead, translating their brand personality, genuinely.
4. The One with a Call-to-Action
Call-to-action captions work well for so many different types of Instagram users and will – more often than not – direct followers to take some form of action.
E-commerce businesses use it to funnel users to their site to see a new product they just unveiled or take part in a sale that's currently running. Bloggers will instruct followers to head to their profile to check out their new blog post and brands offer-up resourceful content campaigns. In times of need, many will encourage others to donate to a specific foundation at the link in their bio.
The CTA caption has a bonus to it because it can help you drive traffic from your Instagram to wherever you choose! Compared to other social media platforms, most engagement on Instagram happens ON the platform, with little opportunity to push people OFF of it, so you have to do these calls-to-action effectively. Follow the lead of these examples…
Examples
Tip: Use active verbs to nudge people to take action. Also, emphasize what you're asking the audience to do with emojis or font formatting so it stands out. Also, make sure your link in bio system is friction-less and easy-to-use.
5. The One that Educates
Offering followers a chance to learn something is another way to make them want to hit that save button on your post. Who doesn't love tips and tricks?
Use your caption as an opportunity to teach your followers about something you're passionate about, something your brand is an expert at, or something you can put a unique spin on. It can be tactical or actionable, or inspiring and motivational depending on your brand content ethos.
Examples
Tip: We all have something to share – whether we're a blogger, brand, or consultant. Lean into what your unique expertise is and be of service. This is how loyalty is built on Instagram.
6. The One that Encourages Engagement
Like I already mentioned, Instagram is becoming less about the likes (in fact, they may be hidden soon) and more about the overall engagement. Share and create content you know you're followers will want to see and then encourage them to engage with your post through the caption.
Ask them a question that will drive them to respond. Have them tell a story that is similar to one you've just told. And don't forget to respond back and acknowledge their comment! You can encourage even more engagement by telling them you will re-share some top answers on your future feed post or Stories, too.
Examples
Tip: The more engagement (likes, comments, shares, and saves) you get on your posts quickly, the more reach it will inevitably have. Whip up engagement by responding quickly or even commenting or liking your follower's posts so they come visit yours.
7. The One that Feels Authentic
It may sound cheesy, but authenticity is the way to go. People want to hear from people they can relate to, and nobody likes when they can tell that someone – even a brand – is being fake.
Vulnerability and authenticity can seem scary at first, but there's a reason that those who are more "authentic" have a higher engagement and more loyal following. We hear all the time that social media is a "highlight reel," only ever showing the good, but when people and brands are authentic, it adds a level of relatability that we're all searching for. Tell your story and share your highs and lows.
Examples
Tip: There's a difference between being authentic and performing authenticity for the sake of engagement. It can often be a fine line in this crazy world we live in, but staying true to yourself and your brand's values will be a strong guiding compass.
8. The One that Builds Community
I think we all can admit the best thing to come from Instagram is the communities we've all built within and outside of the app. A great way to expand and strengthen those communities is to invite your followers to tag a friend who would appreciate seeing your post or can relate to the subject at hand. Doing so also gives you the opportunity to connect with new people and potential followers.
Examples
Tip: So many brands and content creators focus on talking "at" their audience on Instagram when this platform is so darn powerful for relationship building. Instead, think about talking "with" your audience and grow a two-way relationship with captions like this.
9. The One That is Short and Sweet
If you're really struggling to come up with a caption, this type is where "less is more" can be applied. Sometimes your image really does speak for itself so there may not be a need for further explanation, or you really just don't have a lot to say. It's ok to keep your caption short and to the point and just add in an emoji or two!
Examples
Tip: Short captions are often best utilized for posts with images that "speak for themselves" or if you want to engage your following. Best to test things out!
10. The One With User-Generated Content
I think we can all relate to loving a shout-out. Ask for testimonials from your clients that you can use as a caption alongside an image of the work you've done for/with them or their experience with your brand. Or literally use the comments from your audience to create content that showcases them. This type is a great opportunity to bring your brand to life through the eyes of your followers and customers, while showing appreciation for them at the same time.
Examples
Tip: Take a cue from these examples and build-in interaction and UGC into your overarching content strategy, especially if you can make it a regularly-scheduled series or showcase that people will come to expect. That will drive engagement!
To Sum It Up
Writing captions can be a daunting task for sure. That's why I recommend batch scheduling your Instagram – both your visuals AND captions – at least two weeks in advance. You can better get into the "writing zone" and ensure your content is consistent and strategic.
I hope you enjoyed this post and found some useful inspiration for your next planning session. And if you feel so inclined, comment below to share with me which # caption type you want to try next!