10 Ways to Write Good Instagram Captions (with Examples + Tips!)
There is an art to writing Instagram captions. If you feel overwhelmed with where to start, keep reading for 10 types of effective Instagram captions, along with real examples and tips on how to incorporate them into your strategy.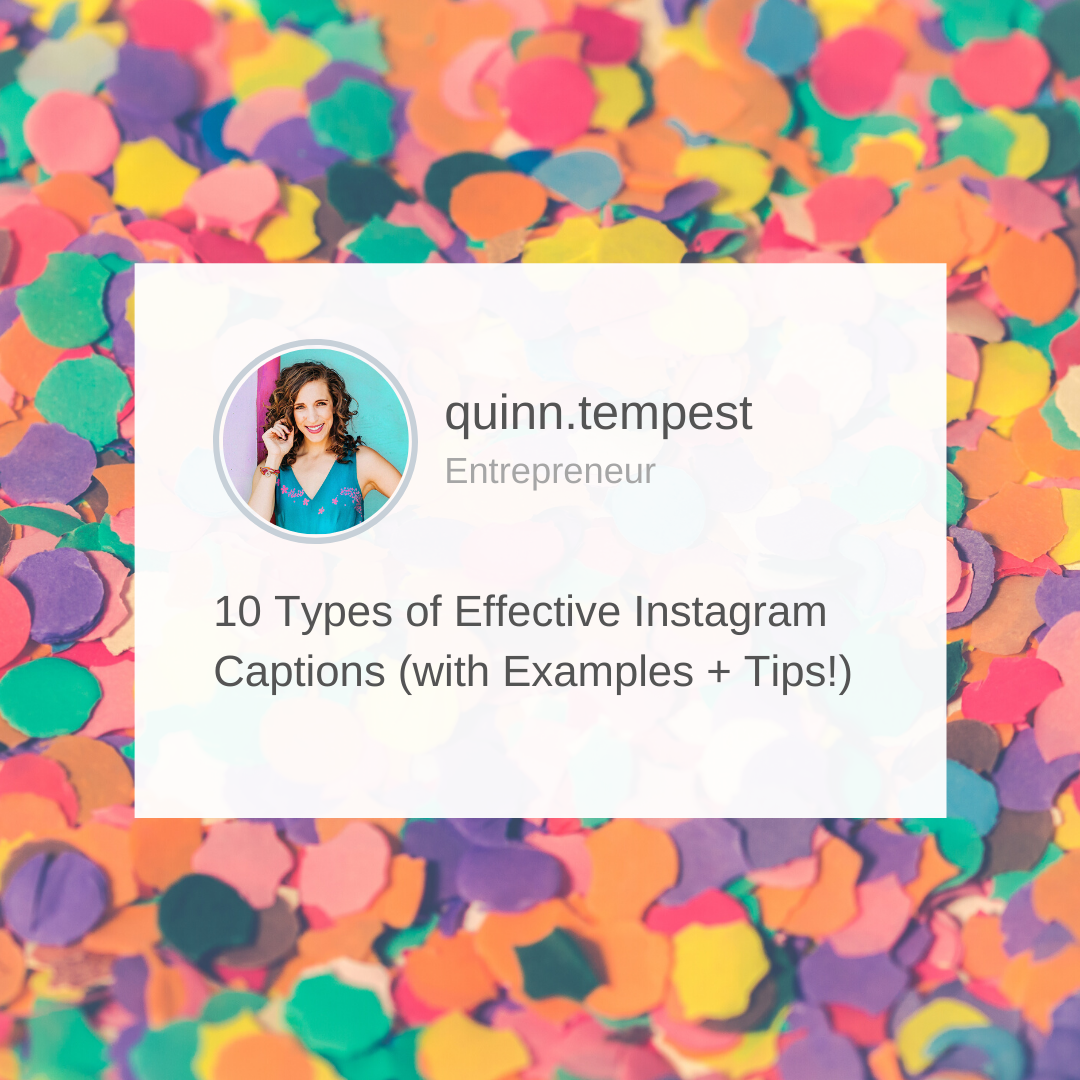 Originally published March 25th, 2020. Updated with all new examples on May 23rd, 2023.
---
There is an art to writing effective captions for Instagram. It's a talent, even!
Coming up with the visual is sometimes hard enough, and THEN you have to think about what to say to accompany it. No wonder so many entrepreneurs and small business owners get overwhelmed with where to start!
If you struggle with knowing how to write Instagram captions, I've created the ultimate blog post for you! In this guide, you'll find:
10 major types of Instagram captions
20 examples of these captions from real-world posts
10 bonus tips on how you can implement each type for your brand
Read below for what I hope will be a major dose of inspiration and reference material for you when you feel stuck with brainstorming captions for Instagram.
And yes, if you're wondering, the caption types follow after the "Friends" episode naming style 🤪
1. The One that Feels Like a Micro-Blog
In a time where the algorithm changes have people frustrated, many Instagram users are beginning to realize that it isn't all about the number of "likes" a photo gets.
In fact, I recommend ignoring likes altogether since they are more of a vanity metric now anyway. Instead, focus on stronger signals of audience engagement on Instagram that *actually* move the needle for your business.
For example, the number of SAVES your posts get is a great indicator that you've tuned into what your audience wants and needs. Even better, you've given them enough value that they take actio and "save" the post.
This is where microblogs – or long-form captions – come into play. These captions are jam-packed and offer users information, education, or inspiration that they'll want to reference in the future.
Examples
The caption from this life coach busts through a common misconception, complemented by the comparison outlined in the carousel. You can see by the comments people took this to heart and used the slides to identify the voices they have in their own minds.
Tip: If you're going to do a long-form caption, break up the wall of text with line breaks or emojis (if they're on brand), and even font formatting like bold and italics with simple tools like this one.
2. The One that Has a Strong Viewpoint
More than ever before, people are aligning themselves with brands that mirror their own values. To encourage more brand affinity, don't be afraid to take a stand, voice your opinion, or even go against the grain in your industry. Not only do these posts get lots of engagement (think Story shares & comments) but they help nurture your existing relationships.
Examples
To counteract Instagram negativity, I outlined 3 positive ways to look at recents changes on the platform. Not only was my audience grateful, but it started on ongoing discussion that helped support my Instagram content creation course launch.
This hand letterer calls out her audience for using excuses for not showing up on social media. The caption asks them to weigh in on this in the comments. She got 123 responses! Tip: Don't be afraid to ask for the engagement you want.
💡 Tip: Bonus points go to Instagram captions that touch on current events or other timely happenings in the broader culture. These often get shared like WOAH!
3. The One that is Clever or Funny
What can I say? Humans on Instagram love anything funny and relatable. After all, that's why memes have been and will continue to be sooooo popular.
Don't be afraid to poke a little fun at yourself or your brand, or tell a funny tidbit about what went on behind-the-scenes of the making of the image.
Plus, puns, sarcasm, plays-on-words, and jokes make great captions as an offset to a more serious photo, or really anytime you just aren't sure how to caption your post.
Examples
A parenting coach shares a wacky Reel that surely captured eyeballs! Plus, a sweet reminder in the caption is likely appreciated by her audience filled with parents.
A compilation of funny tweets all about money compiled by a finance expert. This expands her reach by re-sharing high-performing content from other people (although she should have tagged them if possible) and gives her audience something to laugh about & comment on.
💡 Tip: Every brand or biz needs to find their unique tone and voice with these kinds of captions, not opting for jokes or puns that aren't "on brand" but instead, translating their brand personality, genuinely.
4. The One with a Call-to-Action
The point of Instagram, and social media in general, is to nurture your audience and inspire them to take action. That means you should always be considering ways to bridge your audience off of the platform. After all, you don't own your followers – Mark Zuckerberg does! 🤪
The actions they can take are endless and vary by industry. It could mean you direct people to read a blog on your website, claim a discount for your products, or attend a free training… all with the goal of capturing their email.
That way, you can nurture the relationship outside of the whims of the ever-changing algorithm and open yourself up to marketing to them via email.
Examples
I wrote this caption to give a preview of my blog filled with my 25 top Instagram content editing apps, leading up to a call-to-action to tap the link in my bio to read the full blog on my website where I have free offers and opt-ins they can sign up for.
Cloth and Flame, an event company in Arizona, invited people to buy tickets for their special event, tagging stakeholders and providing a sense of urgency by sharing the limited number of tickets available.
💡 Tip: Use active verbs to nudge people to take action. Also, emphasize what you're asking the audience to do with emojis or font formatting so it stands out. Also, make sure your link in bio system is friction-less and easy-to-use.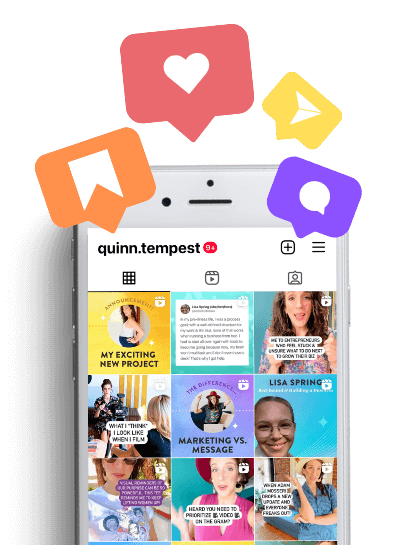 Sign up for my free video training to learn how to reverse-engineer the algorithm and drive real business results ($$$) from Instagram... no matter your follower count!
5. The One that Educates
Offering followers a chance to learn something is another way to make them want to hit that save button on your post. Who doesn't love tips and tricks?
You ARE an expert at something so here are a few prompts to get your juices flowing:
What can I teach that others would find helpful?
I wish people knew this thing….
How can I change peoples' minds about something?
This "Educational" content category is one of the best types of posts that will drive real business results. 🎥 Watch my free Instagram content training for more examples and how to create this kind of content for YOUR business, regardless of industry or audience size.
Examples
The real meat of this post is in the caption when she shares "The evidence of doing friendship right is …" and outlines a few points. Not only does this get her audience thinking, but it gives them permission to go through hard moments and bounce back from them with grace.
To promote my podcast episode, I shared a helpful case study of how I get leads on autopilot from my own campaigns and why ads don't have to be sleazy. The caption is a perfect complement to the interview itself (note the CTA to listen).
Tip: We all have something to share – whether we're a blogger, brand, or consultant. Lean into what your unique expertise is and be of service. This is how loyalty is built on Instagram.
6. The One that Encourages Engagement
Like I already mentioned, Instagram is becoming less about the likes and more about the overall engagement (comments, shares, saves, views, reach).
With that in mind, share and create content you know your followers will want to see and then encourage them to engage with your post through the caption.
Ask them a question that will drive them to respond. Have them tell a story that is similar to one you've just told. And don't forget to respond back and acknowledge their comment!
You can encourage even more engagement by telling them you will re-share some top answers on your future feed post or Stories, too.
Examples
Esembly, a cloth diaper company, asked their audience to share how many diapers they've saved from the trash. The caption outlines how to take part and many people did, both in the comments and on their Stories, netting big reach for the brand.
Powerhouse Women, a membership community of entrepreneurs, asked what their followers need right now and got an overwhelming response in the comments. This is an amazing way to tailor your content based on what your audience wants *right now*.
💡 Tip: The more engagement (likes, comments, shares, and saves) you get on your posts quickly, the more reach it will inevitably have. Whip up engagement by responding quickly or even commenting or liking your follower's posts so they come visit yours.
7. The One that Feels Authentic
People buy from businesses they like and trust. Don't be afraid to let people in behind-the-scenes of your business and show them the human who is running it (with boundaries, of course).
Vulnerability and authenticity can seem scary at first, but there's a reason that those who are more "authentic" have a higher engagement and more loyal following.
We hear all the time that social media is a "highlight reel," only ever showing the good, but when people and brands are authentic, it adds a level of relatability that we're all searching for.
Tell your story and share your highs AND lows.
Examples
Tip: There's a difference between being authentic and performing authenticity for the sake of engagement. It can often be a fine line in this crazy world we live in, but staying true to yourself and your brand's values will be a strong guiding compass.
8. The One that Builds Community
I think we all can admit the best thing to come from Instagram is the communities we've all built both within and outside of the app. A great way to expand and strengthen those communities is to invite your followers to tag a friend who would appreciate seeing your post or can relate to the subject at hand. Doing so also gives you the opportunity to connect with new people and potential followers.
Examples
Sustainable clothing brand, Prana, shares inspiring stories of women making a positive change in the world and encouraged their followers to tag a "trailblazing woman" they know to spread the love.
Jess Ekstrom, speaker and author, is great at engaging her audience with short & simple images. She delivers this little poem about tax season and encouraged her followers to tag their #workwife in the comments in the caption, broadening her own reach.
Tip: So many brands and content creators focus on talking "at" their audience on Instagram when this platform is so darn powerful for relationship building. Instead, think about talking "with" your audience and grow a two-way relationship with captions like this.
9. The One That is Short and Sweet
If you're really struggling to come up with a caption, this type is where "less is more" can be applied. Sometimes your image really does speak for itself so there may not be a need for further explanation, or you really just don't have a lot to say. It's ok to keep your caption short and to the point and just add in an emoji or two!
Examples
Freelancing Females was inspired by meme culture with this post and let the photo itself do the heavy lifting.
A post that gives this author's audience the permission to be exactly as they are. The caption is super short + sweet, asking a question that a few people weighed in on in the comments.
Tip: Short captions are often best utilized for posts with images that "speak for themselves" or if you want to engage your following. Best to test things out!
10. The One With User-Generated Content
I think we can all relate to loving a shout-out. Ask for testimonials from your clients that you can use as a caption alongside an image of the work you've done for/with them or their experience with your brand.
Or literally use the comments from your audience to create content that showcases them. This type is a great opportunity to bring your brand to life through the eyes of your followers and customers, while showing appreciation for them at the same time.
Examples
Every week, The Moth – a popular storytelling event – encourages their followers to tell a story based on a specific prompt and then shares a follower's story a few days later. It has become one of their most popular posts on the Gram and has built-up engagement over time.
💡 Tip: Take a cue from these examples and build-in interaction and UGC into your overarching content strategy, especially if you can make it a regularly-scheduled series or showcase that people will come to expect. That will drive engagement!
To Sum It Up
Writing captions can be a daunting task for sure. That's why I recommend batch scheduling your Instagram content – both your visuals AND captions – in advance. You can better get into the "writing zone" and ensure your content is consistent and strategic.
🎥 If you want to dive deeper into how to show up consistently and confident on Instagram *without* burning out, make sure to sign-up for instant access to my free Instagram content training.
In the video, I share more in-depth insights into the process I recommend that will make content creation more painless and help you quickly come up with content ideas that your audience will LOVE!
I hope you enjoyed this post and found some useful inspiration for your next planning session. And if you feel so inclined, comment below to share with me which # caption type you want to try next!
Free Instagram Training!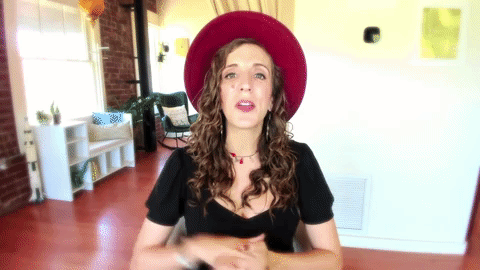 Learn how to STOP ghosting your audience and START posting consistently on Instagram *without* burning out.
Sign-up to get instant access to the training: