Later vs. Planoly: Which Tool Should You Use to Plan your Instagram?
I'll dive into each platform - along with their differences and similarities - and I'll let you know which one I personally decided to use.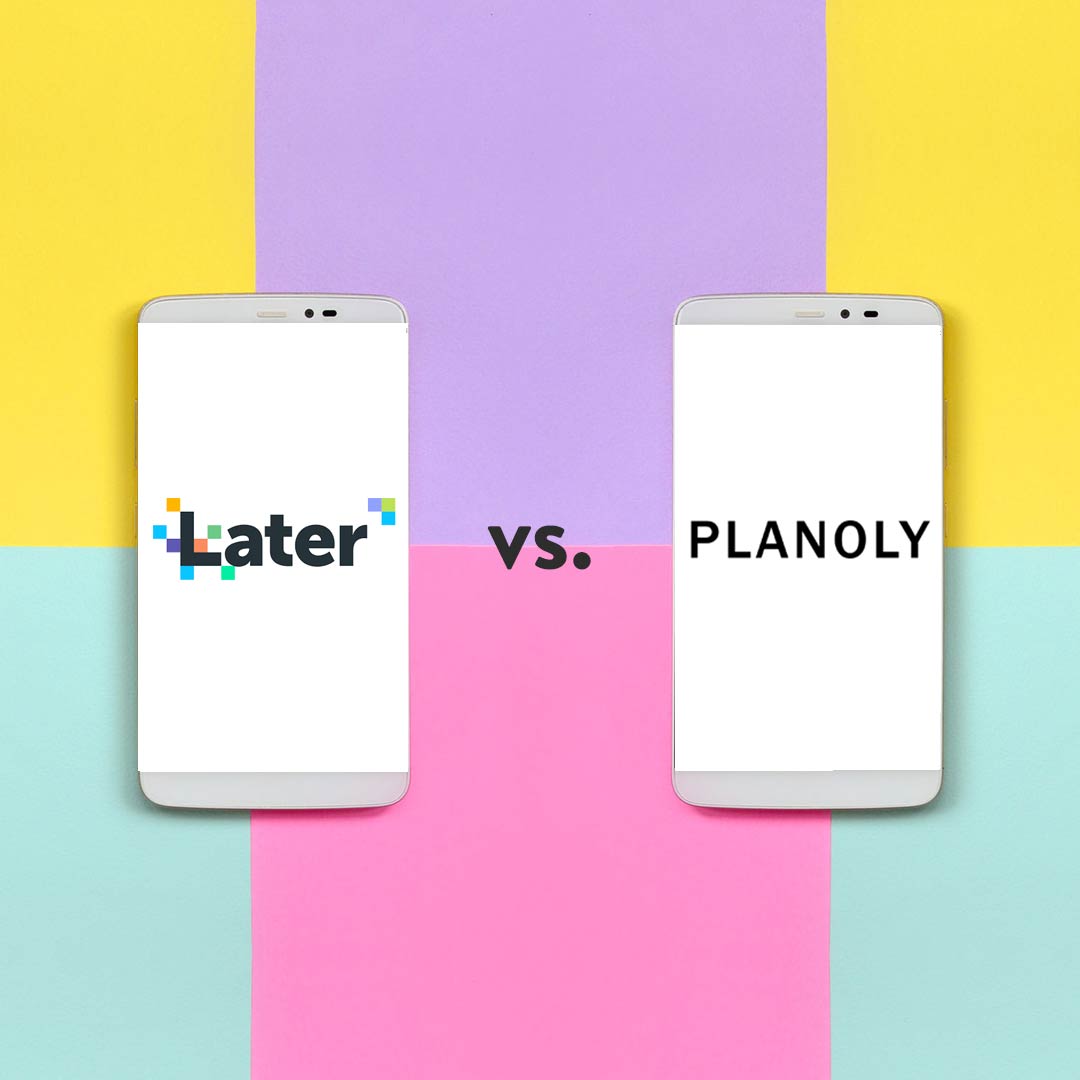 I always keep my eye out for the best tools to streamline business operations and marketing strategies – both for myself and for my clients. Finding the right tool can simplify complicated processes, keep you strategic and intentional, and help you bring your purpose to life through your business with ease.
A question I get asked all the time is: what Instagram planning tool do you recommend? Usually, people will follow that question up with the fact that they've already narrowed their choices down to two options…
Later or Planoly.
Both platforms are leading tools for Instagram planning and scheduling so it makes sense that they are top-of-mind for entrepreneurs and business owners. Both are also Instagram Partners, meaning the platforms have been vetted and verified by Instagram itself.
Which Instagram planning tool is right for you?
To answer that, I did the work for you and thoroughly tested out both Instagram marketing scheduling platforms. If you've read my blog listing my top 10 business tools, you'll know that I have a 4-point philosophy for analyzing tools, so I did my research considering these principles in mind:
Intuitiveness
User interface and design
Integrations
Company culture
First, I'll introduce you to each platform, then we'll then dive into the major features differences (as well as their similarities), and finally wrap it all up with what tool I personally have chosen to use and why
---
A Brief Introduction of Later and Planoly
Later
Description from Later: Later (affiliate link) is the leading visual marketing platform for businesses on Instagram. Founded as the first-to-market Instagram scheduler in 2014, over 1.7 million people use Later to simplify their marketing and grow their business on Instagram.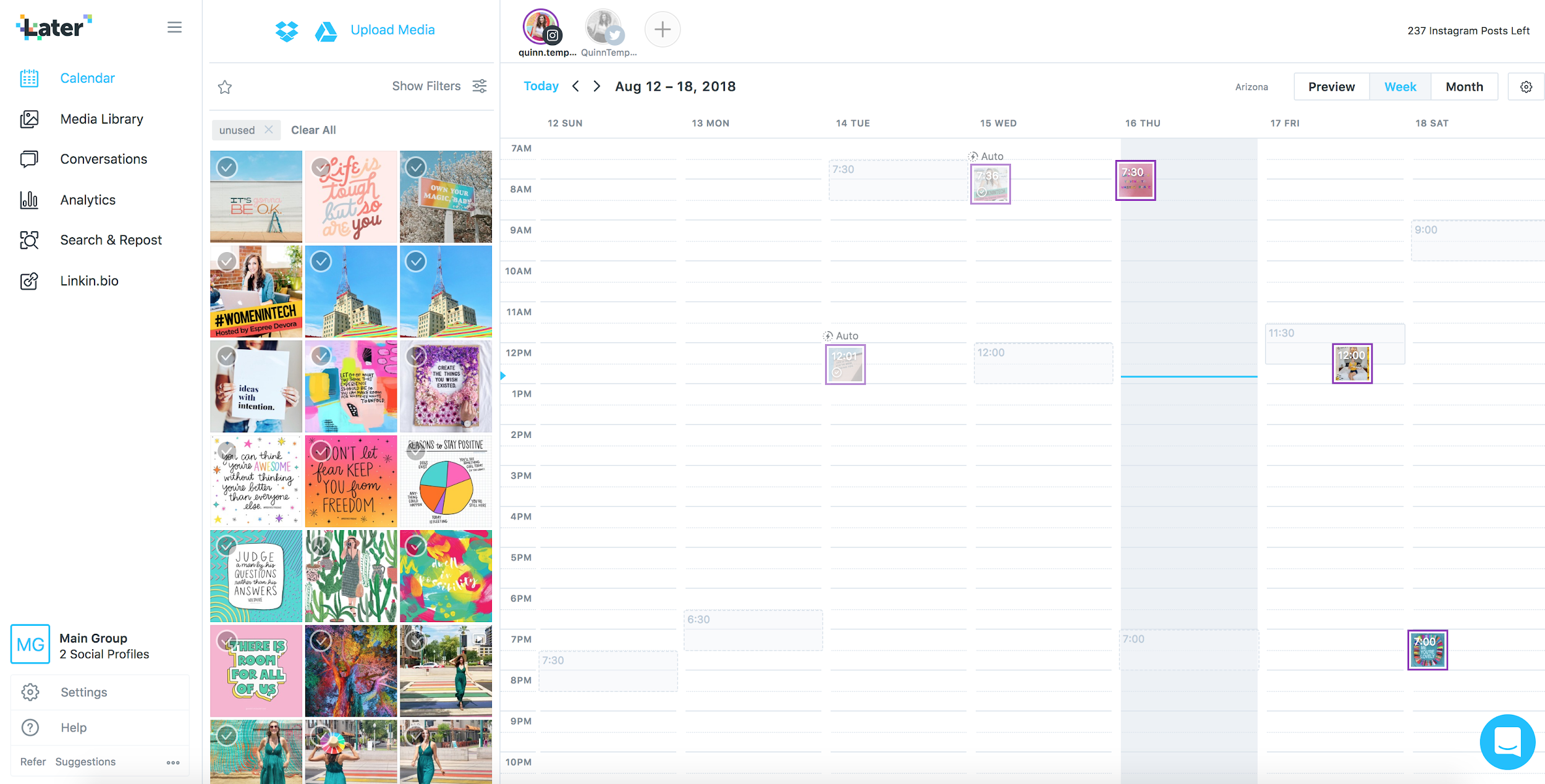 Many users are drawn to Later because of its intuitive user experience and simple design. Although it has a depth of features for Instagram specifically, it's not limited to just Instagram posting, so Pinterest, Facebook, and Twitter are available platforms as well. Later is a social media planning tool favored amongst businesses and brands who need to manage multiple accounts and platforms within one integrated hub.
Planoly
Description from Planoly: Planoly is the premier visual planning and marketing solution for brands and influencers on Instagram. From fortune 500 companies to SMB, our platform has served over 850,000 users since 2016. Our community of loyal users includes Estee Lauder, L'oreal, LuluLemon, Warby Parker, and much more.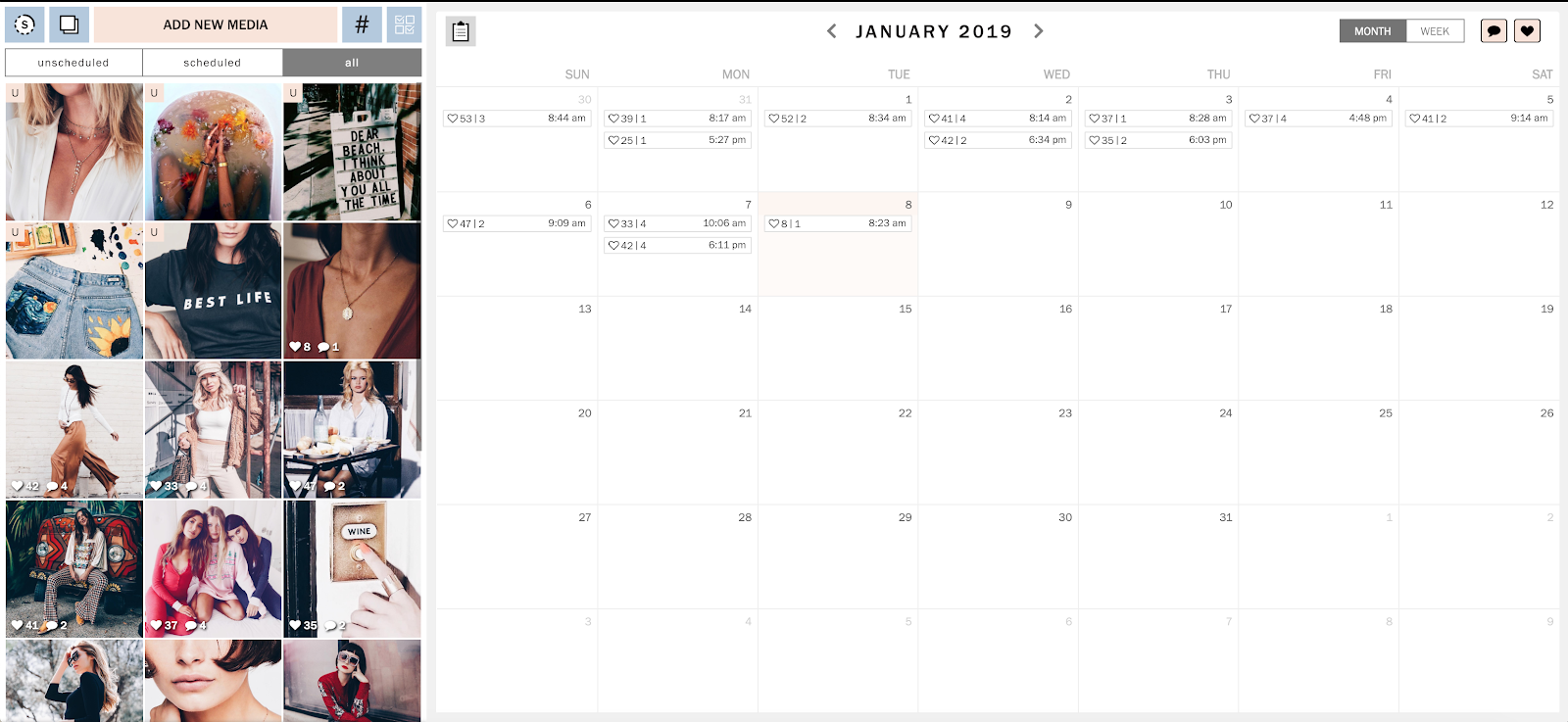 Planoly is a very visual platform and seems to be well-liked among fashion bloggers and influencers. Between Shoplink and Stylelink.it, Planoly is a great platform for anyone looking to sell their own product or promote another product.
6 Big Feature Differences Between Later & Planoly
While testing out both platforms, I found that they were similar in many ways, but had 6 major differences in functionality and features I thought were worth pointing out in detail.
1. Content Management
Later
Later's Media Library feature creates a central area where all images and videos can be stored, labeled, and organized for use on any social media channel, making it easy for businesses and entrepreneurs to keep up with multiple-platform posting. The labels are especially helpful to allow for quick and easy content discovery since you can quickly add tags like in the gif below.
While Later's free version does limit the number of posts you can schedule per month to 30, they allow for an unlimited amount of uploads to the media library. Even if you've reached your number of scheduled posts for the month, you can still view all of your content in one place.
Here's the media organization in action: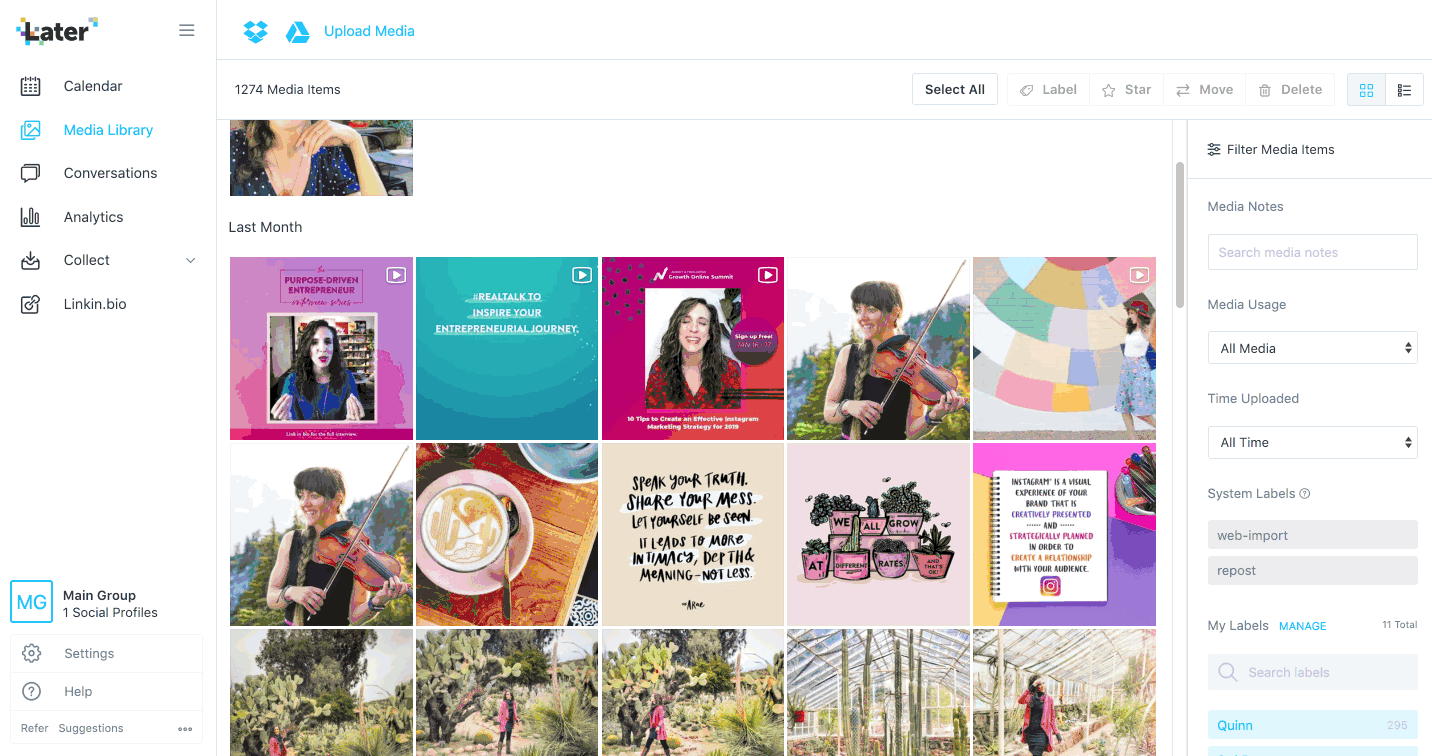 Planoly
The free version of Planoly allows for only 30 media uploads a month. This can create some issues when it comes to those who post multiple times a day or want to batch content ahead of time beyond a month. It can also be a problem if you upload items and then decide to use them further in the future, because if you do hit your max uploads, you aren't able to plan your grid accordingly.
There are also no organizational features of the media library in Planoly like in Later. It has a simple system of "Scheduled," "Unscheduled," or "Drafts" as you can see below.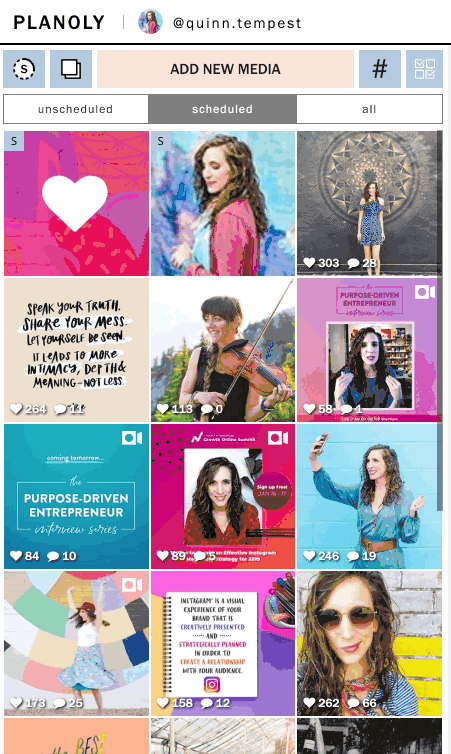 2. Drag-and-Drop Grid Preview
Later
Easily plan and view your feed with the drag-and-drop feature. Move around content to best fit your posting needs and your aesthetic. If you already have pre-scheduled time blocks on your weekly calendar, your rearranged posts will automatically be put into those slots. The preview itself is shown in a phone mockup, so it gives a realistic representation of what you can expect your grid to look like, even pulling in existing live posts.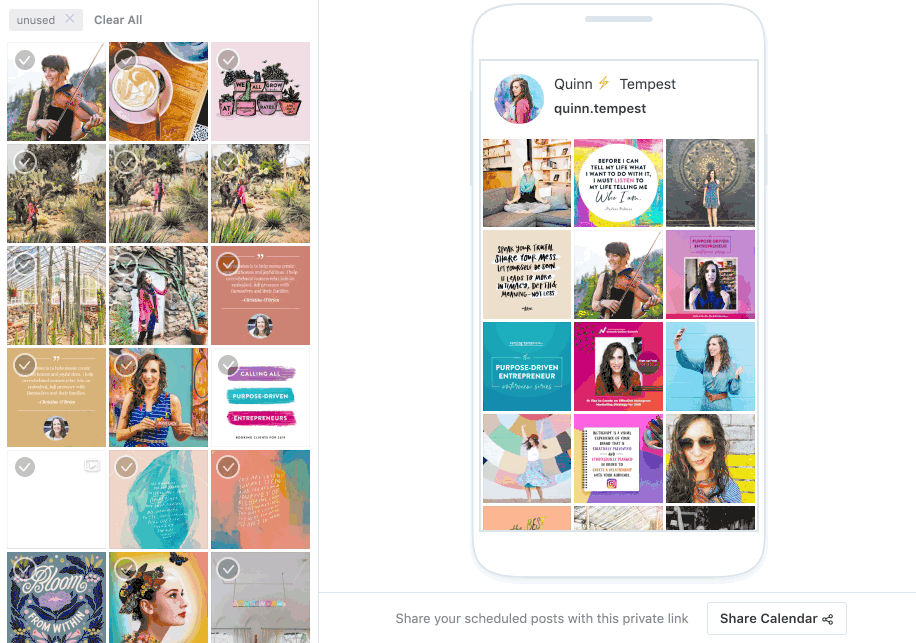 Planoly
Similar to Later, the drag-and-drop feature makes it really convenient to rearrange your grid according to your aesthetic and your posting. However, I didn't find this set-up to be as intuitive as Later. You can view unscheduled and scheduled posts together with existing posts on the "All" tab but that also includes any posts you weren't ready to put in your grid.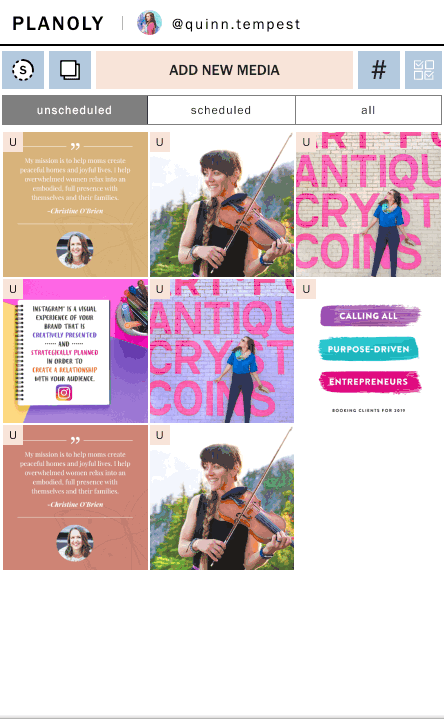 3. Weekly and Monthly Calendar Views
Both platforms offer views of your scheduled content by the week or the month in the free and paid versions. This helps you get a better grasp of what your posting schedule looks like right down to the time of day. Later wins out on both the Week & Month views by displaying thumbnails of the scheduled image, whereas Planoly only shows that on the Week view.
Later's Month View: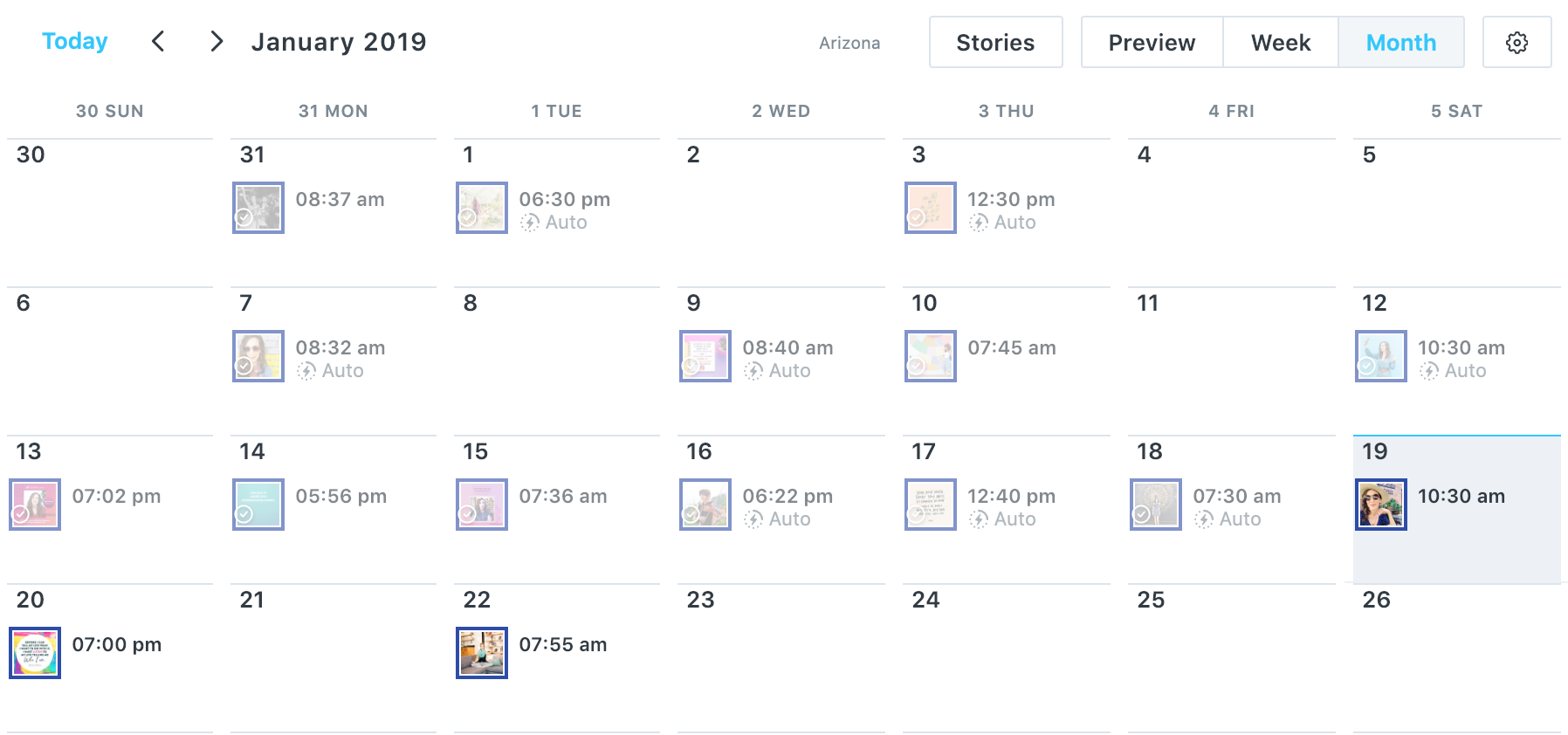 Planoly's Month View:
4. Single vs. Multiple Platforms
As mentioned earlier, users can plan out content using Later for Facebook, Twitter, and Pinterest in addition to Instagram. Planoly is devoted to just Instagram. While I personally haven't used Later for anything other than Instagram, the option is there. This feature doesn't seem to limit Later's depth of features for Instagram since the tool was originally built as a dedicated Instagram planning software.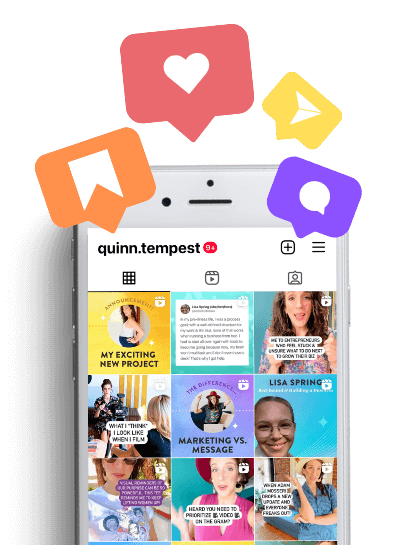 Sign up for my free video training to learn how to reverse-engineer the algorithm and drive real business results ($$$) from Instagram... no matter your follower count!
5. Performance Analytics
Later
Later introduced a slew of new and improved Instagram analytics in November 2018 for paid plans. Users can now track the analytics of up to 3-months worth of Instagram stories and get an in-depth post performance analysis (Instagram's native analytics only shows 2 weeks of data). This Later update also enables you to track key insights about your followers, including their age, gender, and location.
Later also offers a simple highlighted time block on your calendar for your best times and days to post. This will help you pinpoint when to post in order to get the most engagement per your history.
For free plans, Later analytics will only show followers count and engagement rate for posts posted using Later.
One Snapshot of Later's Paid Analytics: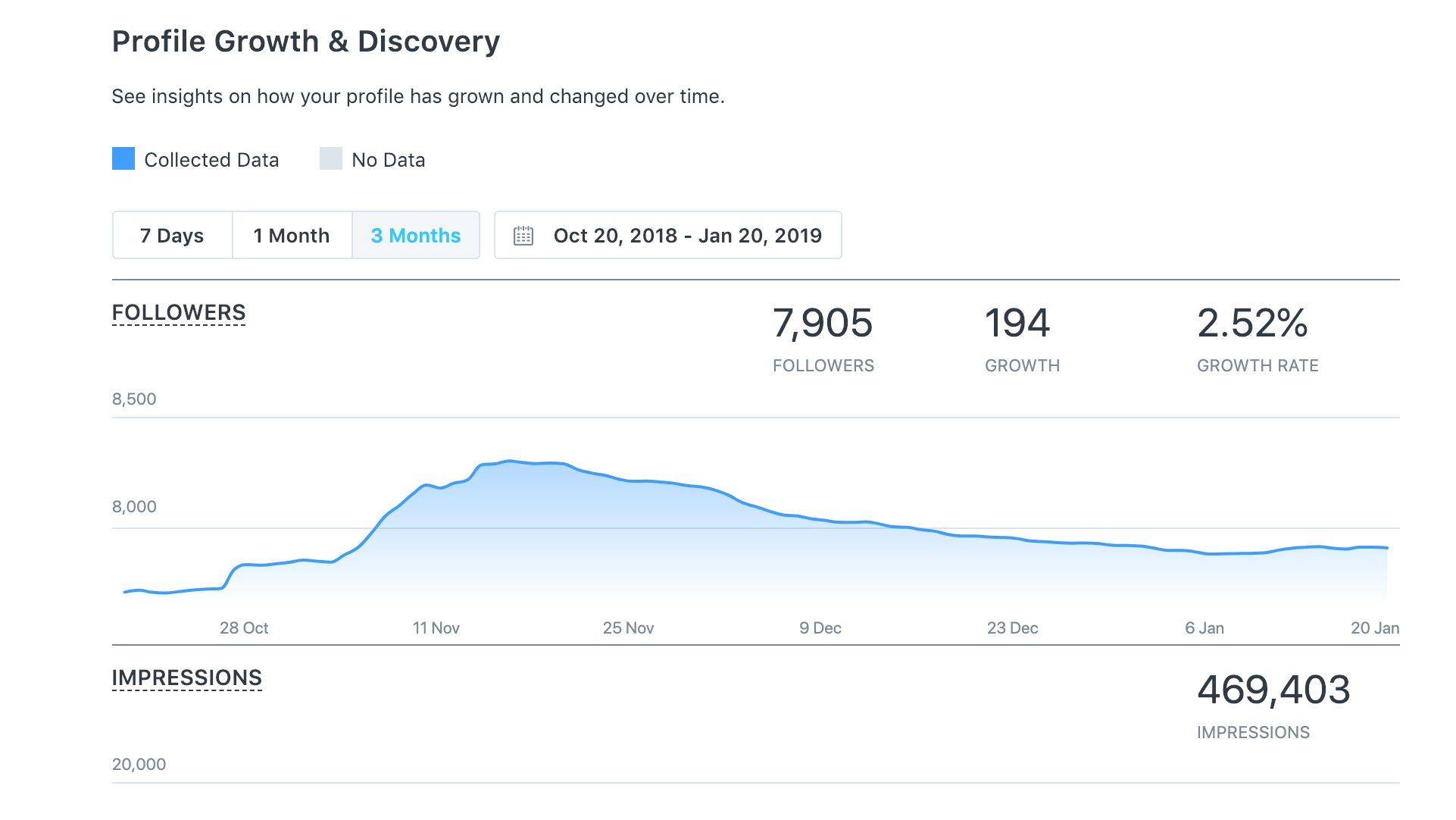 Planoly
Planoly tracks analytics and they can be viewed right in the app or desktop version for paid plans. Users can view their weekly analytics as well as lifetime analytics straight from their phone, making it that much more convenient. Planoly states: " App users now have a snapshot overview into their number of posts, likes, comments, likes per post and comments per posts – this can be measured on a weekly, monthly, and even yearly basis." Free plans can see a simple overview of stats for the last 30 days.
Planoly's Free Analytics: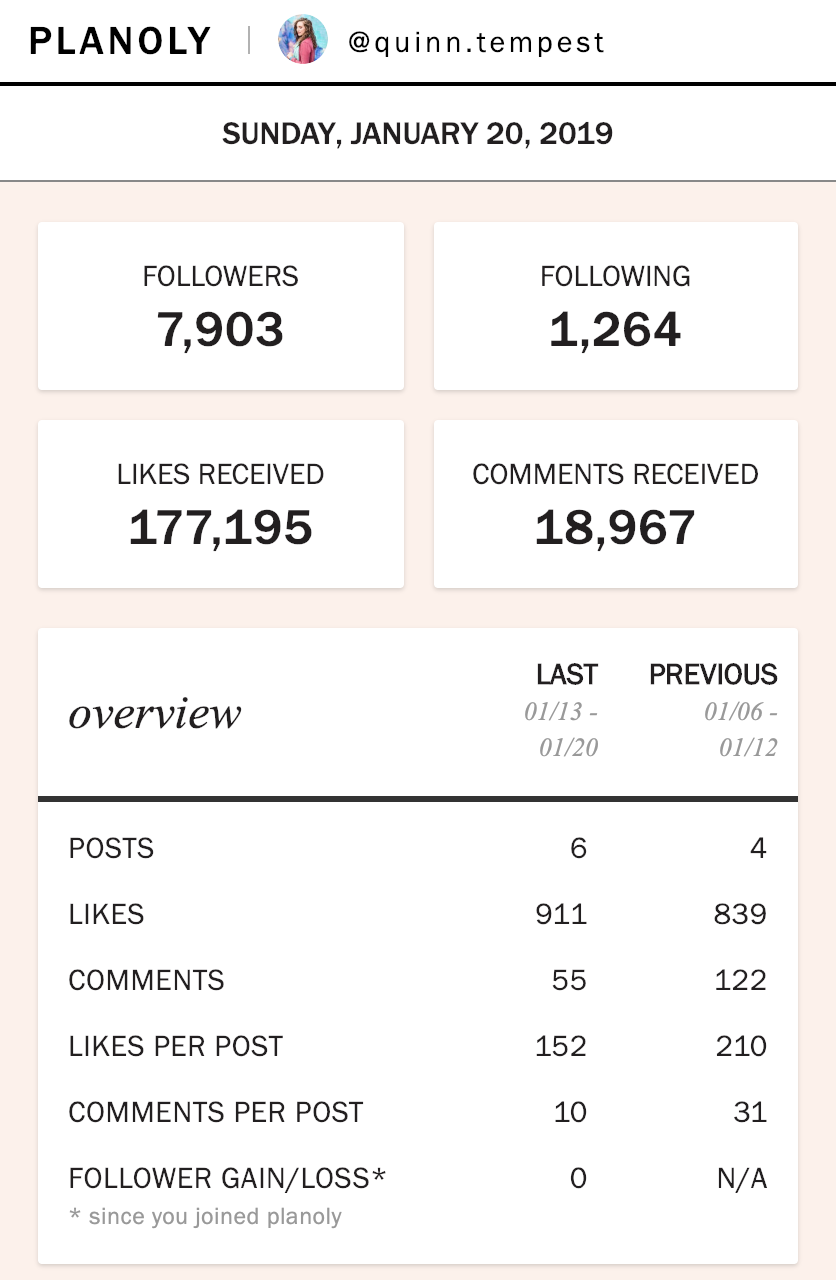 6. Shoppable Links
Later
Later's Linkin.bio allows users to create a semi-shoppable Instagram feed. Users are not able to tag products on the posts, however, a link in the bio will direct users to a feed where they are able to click on the image of their choosing to shop that image. You can also track traffic from your Linkin.bio and your average click-through rate. This is included in Later's business plans, which start at $19 a month and comes with a load of other features.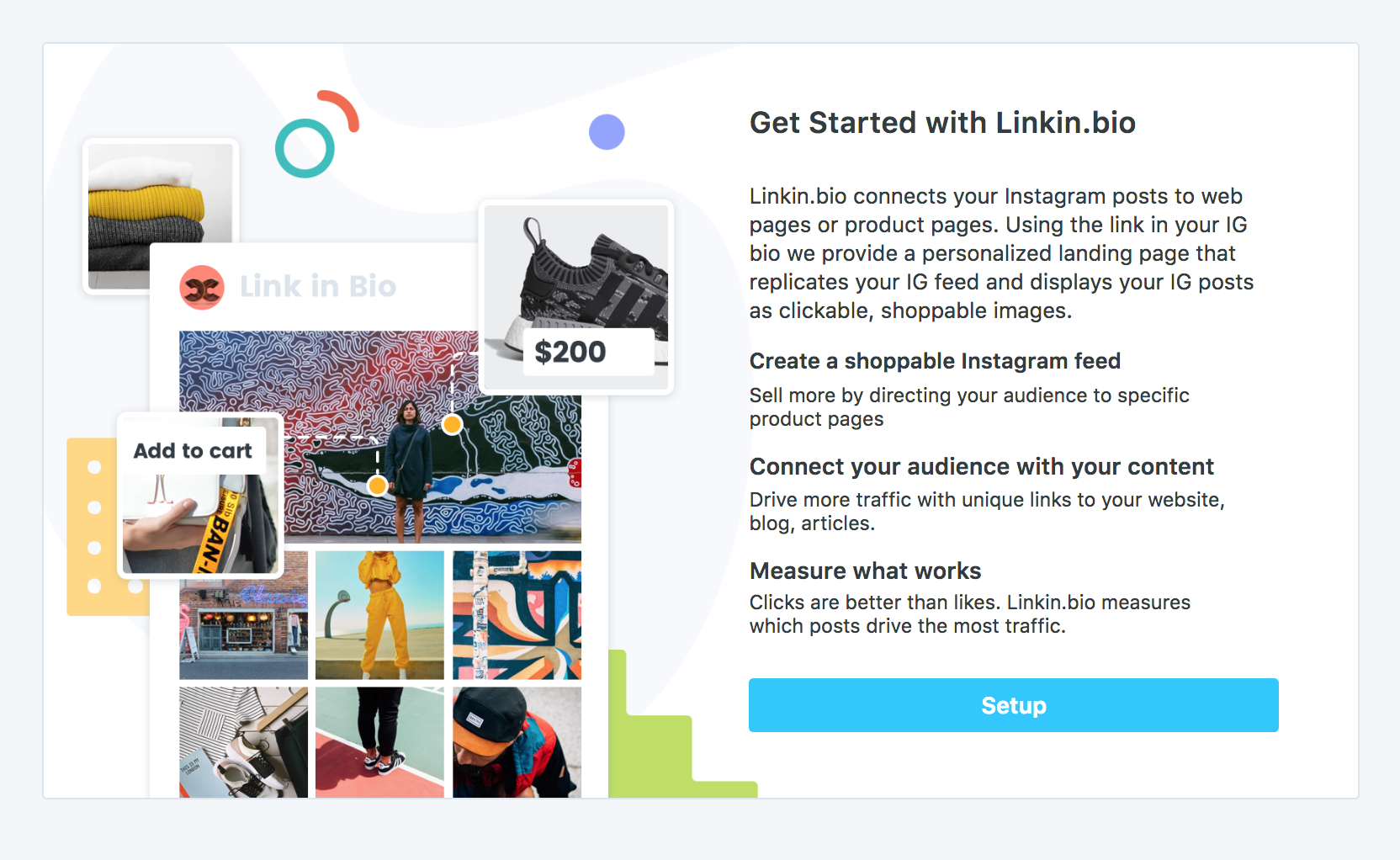 Planoly
Planoly has two robust shopping features: Shoplink and Stylelink.it.
Shoplink is great for shop owners and works pretty much the same as the Product feature in Instagram. It enables users to shop Instagram content directly from the post through direct URL links. Add Shoplink to your website and create a Shoplink gallery to drive sales even more. However, this feature costs an extra $50 a month (if paid month-to-month). If you are a product-based business, it could be well worth it.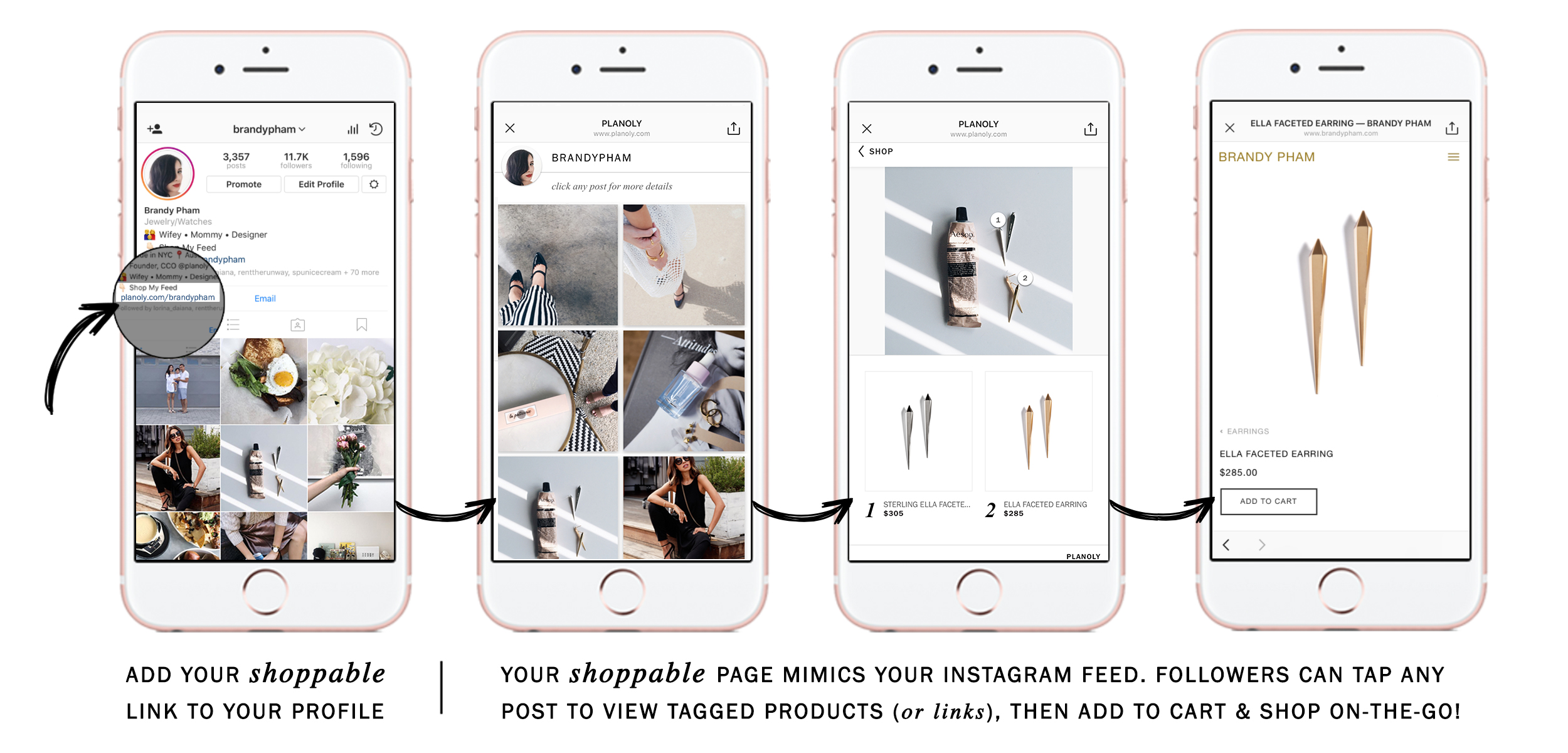 Stylelink.it is Planoly's own version of LiketoKnowIt. Bloggers and influencers are able to link products on content and generate affiliate links. They can also create shoppable links in their bios, embed it on their blog, and share it on other social platforms.
Similar Features on Both Platforms
Auto-Posting – Both platforms offer auto-posting, so posts can go live automatically without getting a manual notification on your phone. However, Instagram's API limits any platform from auto-posting Carousel (multi-image) posts so neither have that.
Story Scheduling– Story scheduling is also available on both, making it a breeze to create and plan out one of the most engaging content formats on Instagram currently. Instagram doesn't allow auto-posting for Stories yet though.
Hashtag Libraries – Never type out your 30 hashtags for a post again! Hashtag management is easy in both tools, and you can add your pre-researched hashtags to a post with one click.
Search & Discover – Both platforms have sections devoted to content discovery and curation. You can browse content from hashtags along with other users and add them to your media library (make sure to get permission first or add proper attribution!). The only slight difference here is that Later offers a Chrome extension that makes adding an image to your media library a simple right-click.
Monitor and Respond to Comments– A central dashboard location for responding to comments is available for Later's business plans. In Planoly, an inbox for responding to comments is available in the desktop version. The free version is limited to responding to only the 5 most recent posts.
Later vs. Planoly Outcome
The question here isn't necessarily which tool is better because both Later and Planoly provide a robust Instagram planning experience. Instead, the question is: which tool is right for your business? I hope the features detailed above gave you a good idea of which platform's features would be the best fit for you.
Both tools have positioned themselves in unique ways, which also may influence your decision based on what space you're in:
Planoly seems to have attracted a client base of influencers, bloggers, fashion brands, and lifestyle businesses. It tends to skew feminine in its branding, content, and general approach.
Later has really carved themselves out as a business tool that a diverse range of companies use, both in size and industry. They have positioned themselves as the go-to marketing platform for Instagram and are constantly on the leading-edge of Instagram innovation as well as customer education.
As far as cost goes, both platforms have free plans that will be great starter plans to test out the features described above. Later's paid plans go from $9-49 a month depending on what you need, and Planoly's pricing goes from $7-$159 a month.
My Tool of Choice
If you didn't gather already which is my tool of choice, then drumrollllll please….
LATER!!!
I tested both tools thoroughly before deciding on Later as my go-to Instagram marketing platform of choice, and I haven't looked back in over a year of using the tool.
I chose Later because….
It's intuitive
Later's whole interface and design just made sense to me, whereas I felt Planoly looked pretty but was a bit clunky.
It has amazing media organization
This is really where Later takes the lead. I have over 1,000 images in my Later account and my labeling system keeps me sane and organized while helping me plan out of my grid quickly and painlessly.
I love the team at Later
Later's marketing and customer service teams seriously know what they're doing! Their blog is FANTASTIC and filled with deep insights into Instagram marketing for businesses, along with how to use the tool to the best of its capability. They're constantly releasing new features that make this tool better and better all the time.
As a digital strategist and designer, I also felt more aligned with their positioning as a brand, whereas Planoly felt more devoted to fashion, lifestyle, and bloggers. They consistently educate their audience and even put together a free lecture series that I was asked to teach at. Watch my 15-minute lesson here!
Of course, because I love and use Later, it's my favorite, but that doesn't mean it will necessarily be yours. I always recommend trying the free versions of both tools first to determine which one you'd like to continue using. Either way, using a tool so thoughtfully designed for Instagram will help you enormously in taking advantage of all the marketing opportunities Instagram has to offer.
Free Instagram Training!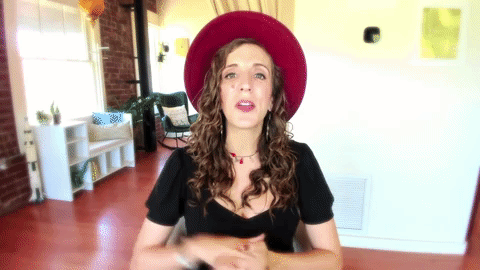 Learn how to STOP ghosting your audience and START posting consistently on Instagram *without* burning out.
Sign-up to get instant access to the training: