Watch my "Instagram Marketing with Intention" Keynote Speech
Watch a few clips from my keynote at Kalamazoo Social Media Week, where I discuss how to harness the power of Instagram with Intention.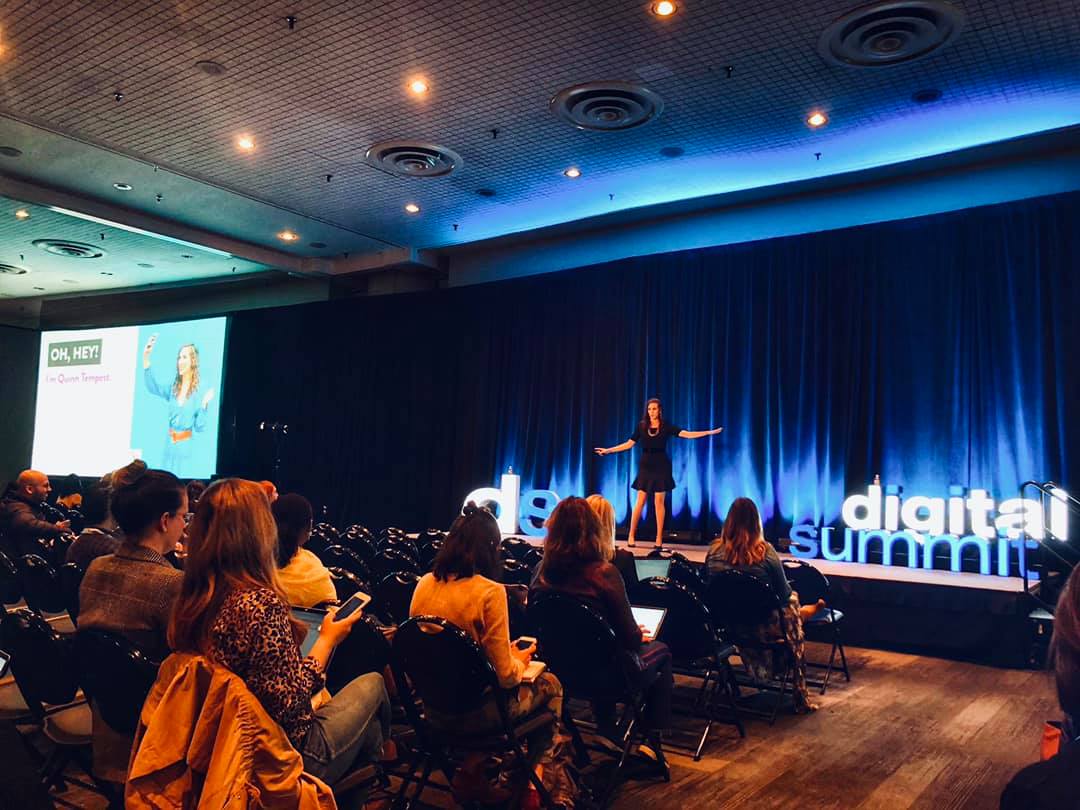 I was recently invited to deliver the keynote at Kalamazoo Social Media Week. My topic: Instagram Marketing with Intention. I discussed the absolute power that Instagram holds for brands, the dark side of the platform, how to use it with intention, and my 6-step strategic framework for pulling together an effective Instagram account. I've pulled together five clips from my talk below so you can learn some insights that will help you pull together your own strategy.
The Absolute Power Instagram Holds for Brands
With 4.2 billion likes per day and 500 million users on the platform every day, the truth behind Instagram's power is simple: people like Instagram.  25 million businesses are now on the platform and 80% of users are actively following and engaging with business and brand profiles. This means there are huge opportunities to target your audience on this platform and drive revenue to your business. Watch this clip to learn more about the power of Instagram and how to use it to your advantage.
4 Ways Instagram Has Changed the World
Instagram is a cultural phenomenon that has had a huge impact on the world. It has become so much more than just a social media platform. Travel, design, purchasing behavior, and how we connect are just four of the numerous ways Instagram has had an impact on the world around us. I dive into a few of the major impacts in this clip.
What is Instagram Marketing with Intention?
There are more possibilities to Instagram than there are drawbacks. But, in order to find success on this platform, you must to dig deep into your brand purpose, be intentional with everything you do, and have an understanding of what Instagram marketing truly is at its core. In this clip, I discuss how Instagram should be an extension of your content marketing strategy and also share my definition of Instagram marketing.
How to Choose the Right Instagram Hashtags
Hashtags are one of the best ways to be discovered on Instagram, which makes choosing the right hashtags for your brand very important. Don't be generic with your hashtags. You need to actually be using hashtags that people are searching for and engaging with, and being broad won't help you. In this clip, I describe 3 specific types of hashtags to use and how you can go about researching them.
Why You Should Be Using a Dedicated Instagram Scheduling Tool
As marketers, we should never be sitting around wondering: "What we should post today?" Instead, we should be thinking ahead and ensuring our content is consistent and strategy. Instagram has so many idiosyncrasies that using a dedicated planning tool is a must – no Hoosuite or Buffer, people! If you aren't sure which tool is the best fit for you, check out my Later vs. Planoly blog post where I compare and contrast the two top Instagram planning tools. In this clip, I talk about the features that dedicated tools have and share some strategies for being more efficient with your content planning.
---
Interested in bringing me to your next event? I'm a frequent speaker at conferences and private events all over.