How to Get Featured on Podcasts – A Step-by-Step Pitch Guide (+ Free Template)
Interested in getting featured as a podcast guest? Here's my proven, step-by-step outreach and podcast pitching process to help you, with a free template included to organize your research.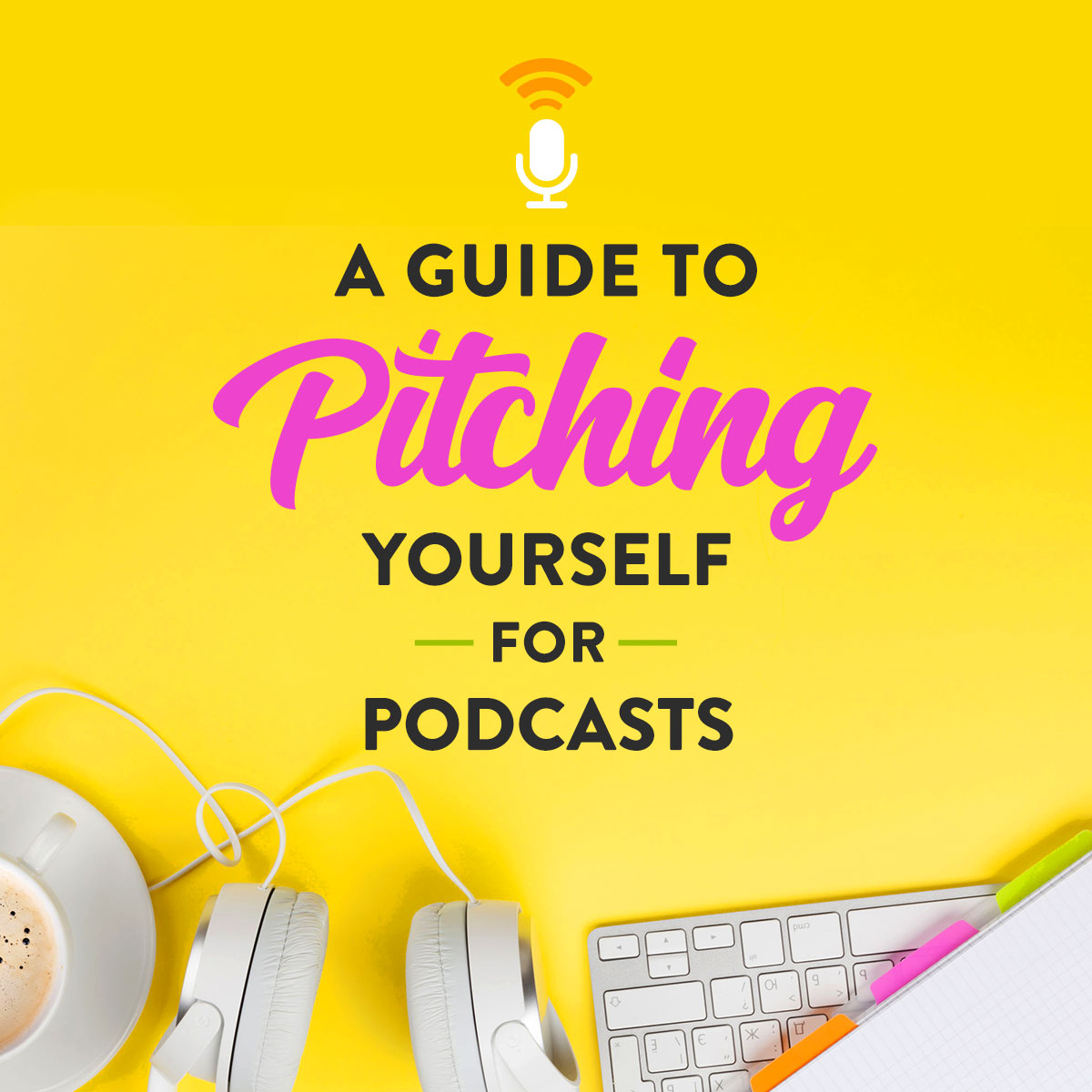 Podcasts are so hot right now. And rightfully so! They are easy to pop in your ears during a walk, a commute, or any other quick moment we can capture in our often busy modern lives.
Plus, there's a podcast for nearly anything nowadays! From journalism to storytelling, true crime to comedy series, there's seemingly a podcast for everyone. For us entrepreneurs, podcasts can also be amazing vehicle to build our brand, increase our thought leadership within our niche, and reach new audiences.
I've personally had the chance to be a guest on many podcasts and I've seen the power of one interview to bring in new people to my fold and even convert website visitors to leads.
So, how do YOU get featured on a podcast?
After many years of merely getting opportunities come my way randomly with no consistency, I decided to be more proactive. So, I pulled together a step-by-step process to guide my podcast outreach, and that's what I will share with you today!
In this blog, you'll learn how to effectively pitch yourself for podcasts, including:
How to get clear on your podcasting goals
Ways to research relevant opportunities
How to organize your research*
Best ways to pitch and follow-up*
My personal results from this process so far
*To help you along, I'm providing a free research spreadsheet – the one I personally made and use – at the end of this blog!
So without further ado, let's dive in…
1. Get clear on your goals and niche
This first step is probably the most important. You must really take the time first to get clear on your podcast pitching goals so you can create an effective outreach strategy.
Think about why you're reaching out to podcasts in the first place.
Is your goal to…
Grow your brand?
Gain new clients?
Drive website traffic?
Spread your message?
Become a thought leader?
When I set out to begin this process myself, my primary goal was to expand my audience within the creative entrepreneurship realm. I've been known as a content marketing expert for years, and I continue to speak at more corporate digital conferences around the country. But my real passion lies in helping entrepreneurs and small biz owners build meaningful businesses and intentional lives, and I wanted to talk to more of those people.
Plus, over the summer I launched my Create Your Purpose Quiz – a tool I developed to help people reflect on their entrepreneurial purpose – and I thought purposeful entrepreneurship was a perfect topic that would lead people to my free quiz (which is also my primary lead generator).
Get clear on your goals first, and understand how being a guest on podcasts can help support your broader business mission.
2. Identify your areas of expertise
The podcasts you're pitching should have a connection to who you are and where your skill-set lies. Narrow down your topics to what you feel most confident to discuss and what supports your identified goals from #1.
As an entrepreneur within the marketing and branding field, I narrowed my own categories to these main three:
Creative Entrepreneurship
Digital Marketing
Purpose
I also have assets to back all of this up – my blog, website, speaking page, and Instagram presence all cover these pillars.
If you don't yet have a digital presence that supports your focus, make that a priority.
Podcast hosts will do their research on you, and any friction points will limit your ability to get good opportunities.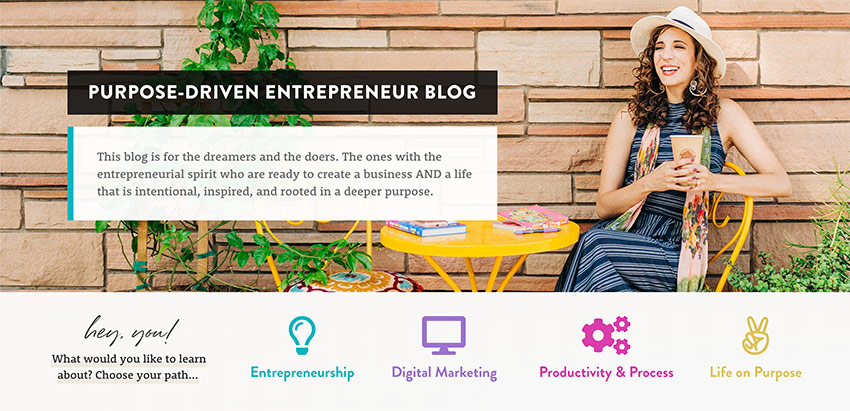 3. Know your audience
There are podcasts about everything nowadays, but that doesn't mean you should be pitching for the sake of being a guest on any podcast.
If you don't get clear on your audience first, there's a good chance you'll end up sending a lot of pitch emails that lead nowhere. Or maybe you even snag an opportunity, only to find yourself speaking to an audience that doesn't connect to what you're saying.
When you're pitching to be on a podcast, you must be clear about the value you'll provide to their listeners.
For example, I wouldn't plug my Create Your Purpose philosophy to a podcast purely focused on digital marketing. Instead, I would tweak my pitch to focus on my digital strategy expertise with an actionable tip on hashtag strategy for Instagram.
Know your audience first! And the best way to do that? Research! Which leads me to #4…
4. Research podcast opportunities
Next up, identify what makes a podcast a viable opportunity for you.
This will be different for everyone, but in this online and social media-driven world we live in, I found it important to take a podcast's online presence into account. Keep in mind that newer podcasts with a smaller following may be more apt to bite because they are not yet established.
Here are a four elements you can take into account when deciding which podcasts to reach out to:
Reviews
Reviews are often an indicator of how popular a podcast is or how engaged the listening audience is. Take a look to see if there are any reviews, and if so, what they say. Also, don't just pay attention to if they have 5 stars. Really look at the reviews and see:
How many total reviews are there?
When was the most recent one posted?
Are there any negative ones?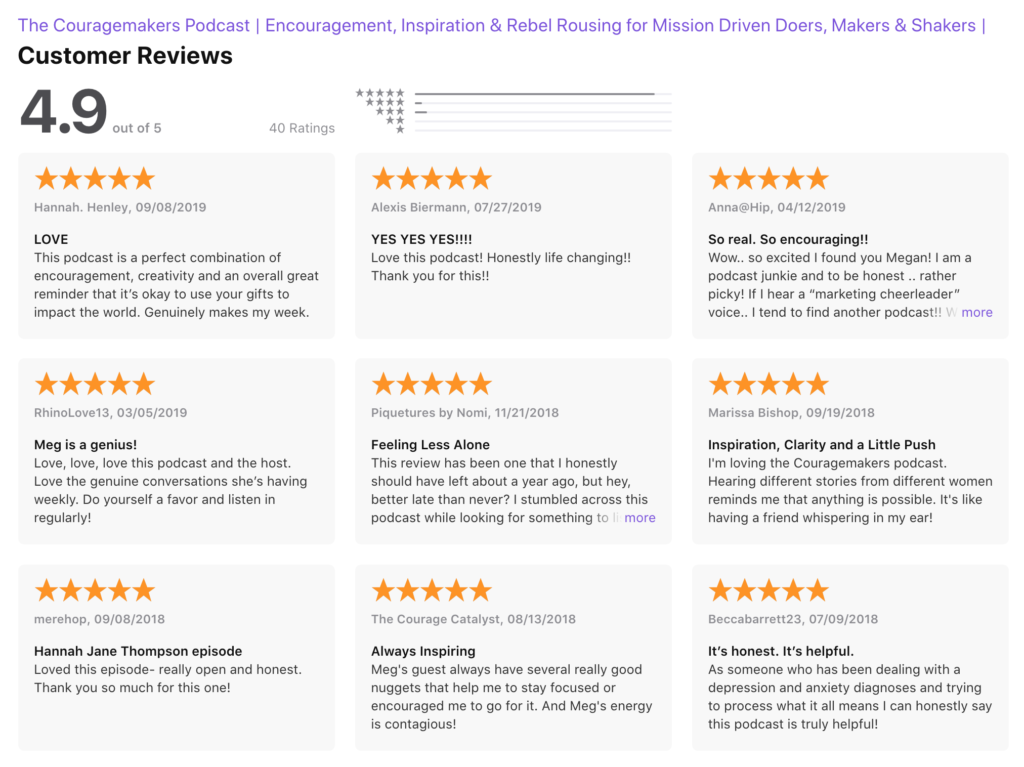 Podcast reviews tend to be a little trickier to get from listeners in the first place, so don't be too concerned if a podcast only has a few reviews. That being said, there should be a good ratio to the number of reviews and the number of years it has been around (e.g. a longstanding podcast with only a handful of reviews may not be the best avenue). On the other hand, if you're just starting out and want to get your feet wet with speaking on podcasts, maybe a smaller podcast will be just right!
Instagram presence
By now we all know how important Instagram marketing is for brands, big and small.
It is also commonplace for podcasts to have a branded Instagram account where they publish snippets of upcoming episodes, post when new episodes are live, and introduce upcoming guests.
Here are some questions to investigate:
Does the podcast have a branded Instagram account?
How many followers do they have?
What is their engagement rate (likes, comments)?
Are they regularly promoting new episodes?
If there is no official podcast account, does the host have an account?
Is the host actively promoting their podcast?
While follower count isn't everything, being well-branded and regularly active are sticking points for credibility. Nowadays, promoting on social media is a must when it comes to marketing, and if a podcast isn't doing it, they might not have the ability to reach a broader audience.
Their website
Along with social media, an up-to-date website is an important feature to look at. It doesn't necessarily have to be a dedicated site; it could be even a page on the host's personal website. Some things to consider:
Is it up-to-date with the latest episodes?
Are they actively promoting the podcast?
Do they publish show notes with links to guests' website?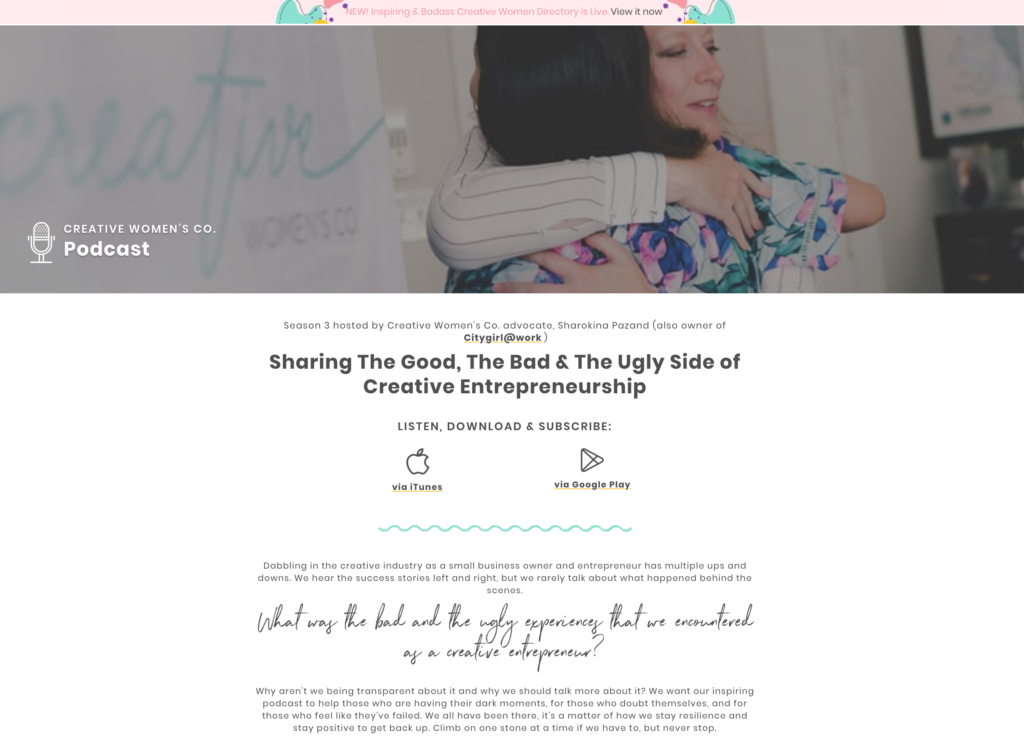 Their publishing cadence
There are now many defunct podcasts that are no longer pushing new episodes.
Double-check and pay attention to when their last episode was posted, if they made a finale announcement, or if they're just on hiatus.
I noticed in my findings that there was often no finale announcement and that many just seemed to stop publishing. It wasn't until I saw that their last episode came out over a year ago that I realized they are no longer around.
5. Important: organize your research!
What good is research if it is not organized? This is the step that takes you from a pedestrian podcast pitcher to a legit, badass, organized and intentional podcast outreach master!!
To organize all my personal findings, I used a Google Sheet. This helped me bring all my research into one place, record important details, and create an action plan for outreach.
Want to save yourself the time and effort? You can download my free research spreadsheet.
My spreadsheet is divided into multiple columns: podcast name, host's name, topic category, website, contact information, Instagram profile, and some outreach tracking columns.
I also separated the rows into 3 sections based on the size of the podcast to help me guide my outreach and give myself some stretch goals for the future:
Small – I based this off of Instagram following size (typically under 8 thousand followers), the number of reviews, how long it's been publishing, etc.
Medium – Anything larger than small based on the criteria above, but still not too out of reach.
Mega – The super large-scale podcasts that have millions of downloads, and may be unattainable for me at the moment, but still worth listing.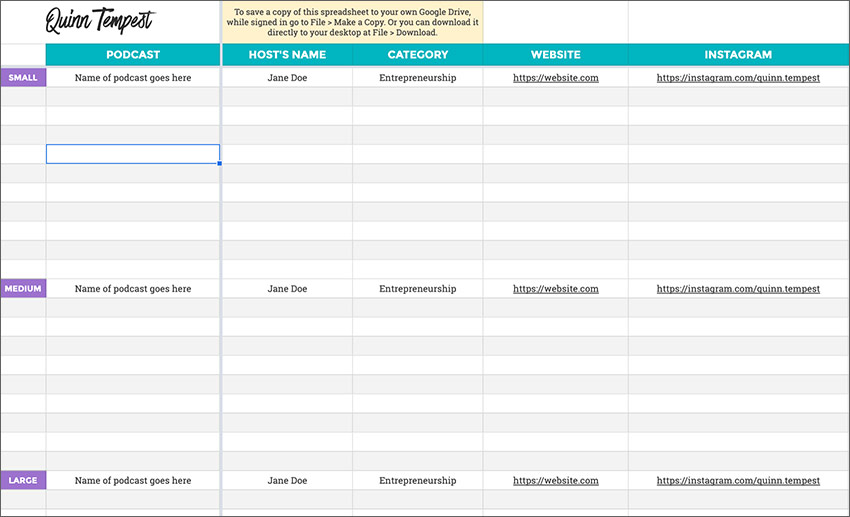 6. Create a pitch script
Once you've identified your niche and your goals, you may find that you might want to pitch on a few different topics related to your content pillars.
This is why I'd highly recommend creating multiple generic scripts based on the audience and category of the podcast, as well as the expertise/topic you're looking to speak on.
I personally created and saved three primary scripts that I then tweaked slightly for each pitch:
One for when I am pitching about purpose
One for pitching a mix of purpose, entrepreneurship, and marketing
One slightly shorter version for sending via Instagram DMs when a contact email was unavailable.
Not sure where to start with writing your pitch? Here are a couple tidbits I gathered from my research before writing my own.
Be specific. Pick out a major lesson or story you could speak to. The audience wants to connect with real people with real stories.
Make the decision easy for the host. Don't list 20 examples of why you'd be a good fit. Be concrete with who you are and what you bring to the table.
Build common ground between the potential host and yourself. Create a connection about what you have in common and how you align with their podcast goals.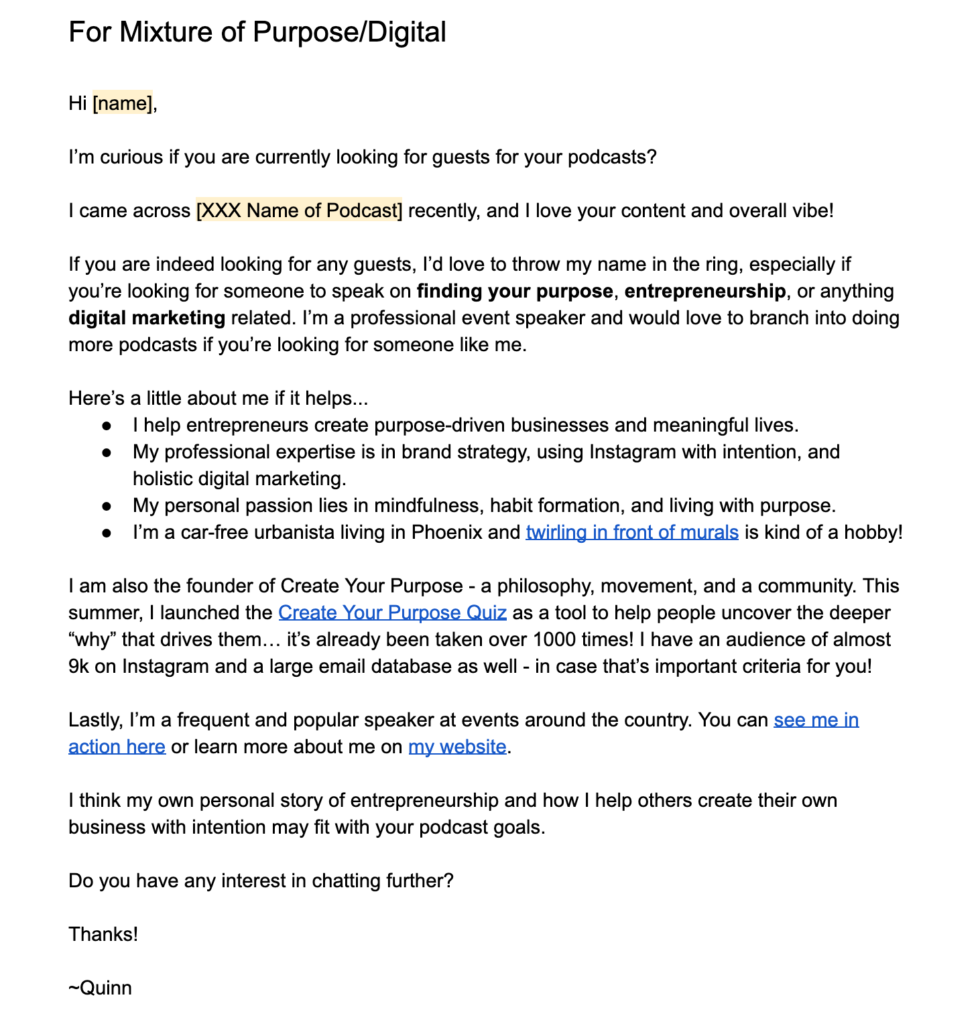 7. Do the outreach
During your research, keep track of any contact information you find.
Email is gold so check their website or Instagram. More established podcasts may not want spam, so they don't provide an email on their site, but they will have a contact form that you can fill out. Instagram DMs should be your last resort but can work in a pinch. Always look at their bio, they may mention that they won't accept podcast pitches via DM – be respectful!
When I sent my pitches, I used my script templates and added a personal note to each of them based on what I found about the host or podcast. I then only needed to make small little changes to the body of the content in case I knew the host would really like something I had to offer.
The pitch scripts saved me hours of work!
8. Track your outreach
Once you've sent out pitches, be sure to keep track of who you've reached out to, when you reached out to them, and what answer you got back – whether it's yes, no, maybe at a later date, or no response.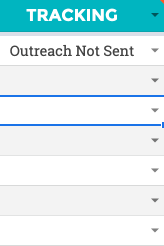 My free podcast pitch spreadsheet download has pre-set drop-downs built-in to make this quick and easy.
9. Follow-up
Depending on your initial outreach response, it's always a good idea to follow-up.
If the host or producer responds with something along the lines of "maybe at a later date," then I'd give it a couple of months before reaching out again. This is where your spreadsheet comes in handy.
If they aren't looking for guests or don't accept pitches, then a simple thank you will suffice, as they've made their point clear.
If they don't respond, give it a few weeks before reaching back out.
If it's a yes and they schedule you, congrats! Put it on your calendar and rock that podcast!
My Results
Here are the results of my own podcast pitching efforts so far:
Sent 12 outreach emails
Received no responses at all from 8 podcasts
Received 1 "no" response since they aren't currently in need of guests, but will keep me on file.
Receive 1 "later" response who got all my information through an in-depth questionnaire and wants to schedule for 2020.
Booked 2 podcast interviews for later this month!
That's a 25% success rate so far including the "later" response, with follow-ups to the podcasts that didn't respond still to come. Not bad at all!
Although the set-up of this process took a bit of time and effort, I now have a streamlined system to follow for future efforts, plus a list of even more podcasts to pitch soon.
Have any questions about how to do this yourself? Pop me a comment! And make sure to download the pitch research spreadsheet below to save yourself some time and effort.