The Purpose-Driven Entrepreneur Interview Series: Marisa Morrison
Founder of crafting education business, The Neon Tea Party, Marisa Morrison, is on a mission to make crafting cool. We chat about gaining focus, creating systems, and finding your support system.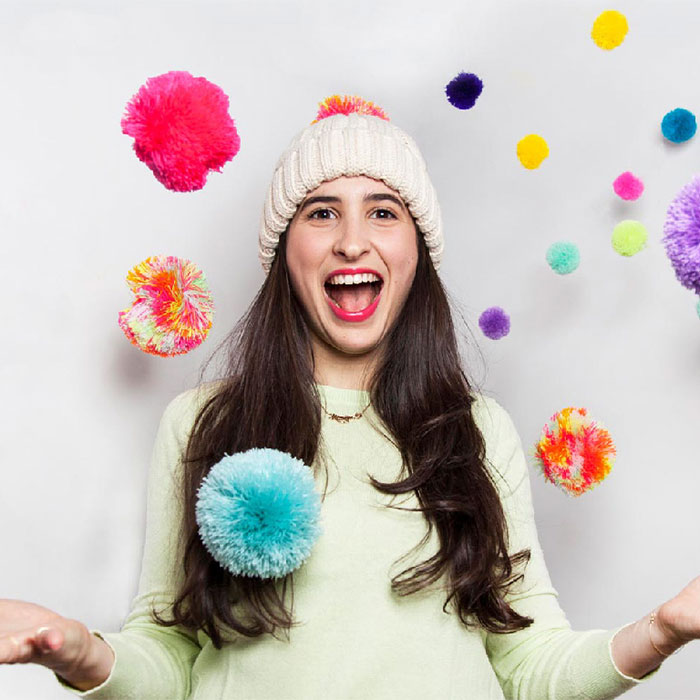 The next guest in my Purpose-Driven Entrepreneur Interview Series is Marisa Morrison, founder of The Neon Tea Party, a crafting education business. Based in New York City. Through The Neon Tea Party, Marisa is on a mission to make crafting cool and help others explore their creativity through colorful, globally-inspired crafts via TNTP's online courses, in-person workshops, corporate events, blog and Instagram.
Our conversation has been edited for brevity and clarity.
Quinn Tempest
Hello, everybody! Thank you so much for tuning in, and coming back to "The Purpose-Driven Entrepreneur Interview Series." I am very excited to do this installment with my very sweet friend and a client of mine, Marisa Morrison. She heralds from New York City and is the founder of The Neon Tea Party. I'm just so excited to have you here today, Marisa, and to chat all of your crafty, colorful, goodness.

Marisa Morrison
Thank you, Quinn. Well, I wouldn't be even close to where I'm at with my business without all of your help. So you should take a lot of credit for where we're at right now.

Quinn Tempest
Well, it's been super fun. Can you tell anyone that isn't familiar with The Neon Tea Party a little bit about what it is, how it started, and where you're going next?

Marisa Morrison
The Neon Tea Party is a colorful crafting education business. I'm based in New York and currently operate the entire business out of my tiny Manhattan apartment.
Our mission is to make crafting cool and help people get in touch with their creativity through colorful, globally-inspired crafts.
I started The Neon Tea Party a little over two years ago. The name started in college as a very personal fashion blog. As the company was closing at my last job-job where I was an employee, I picked the name back up and created a new blog on the side. It quickly gained a lot of traction just from how excited people were about it. I had small brands wanting to work with me pretty much off the bat and photographer friends wanting to shoot with me.
Because of the quick traction and the hope that this would one day become a business, I figured, "Well, now is a great time. I'm young. I don't have too many responsibilities outside of myself." And I haven't looked back since.
The business is a lot more than just a blog now, with our entire focus on crafting education. That all came about from trying to figure out ways to monetize The Neon Tea Party blog beyond just doing sponsored content that I didn't really feel passionate about.
I was looking for other ways to earn money for the business and teaching craft classes was one of them. So that's how we went from blog about two and a half years ago to now "Crafting Events", an online course, selling craft supplies and just a total focus on educating about colorful, globally inspired crafts.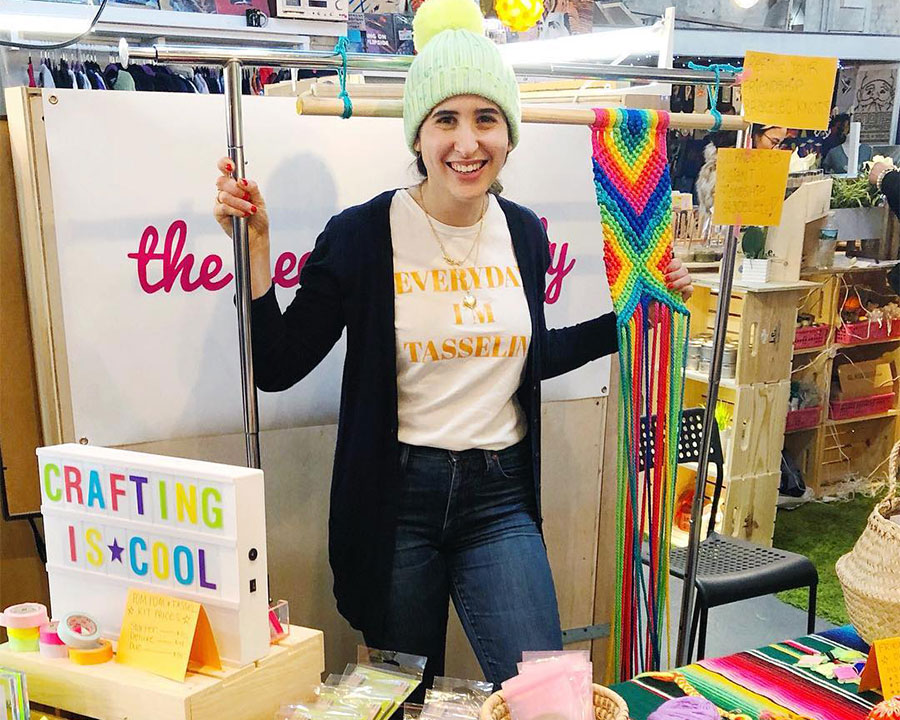 Quinn Tempest
I've been so inspired by your journey because you tap into people's creativity. Why are you personally so passionate and excited about crafts? And do you find that there's kind of a purpose that has weaved throughout your life to lead you to creating "The Neon Tea Party?"

Marisa Morrison
I've always been an immensely creative person…my whole life I've just like bursted with creative ideas and felt such a need to bring these ideas to life. And that's been such a driving factor in my life. Sometimes you need to think through to try and find the threads on why you do what you do.
Helping people explore their creativity is really at the core of everything I do, whether it's crafting-related or helping others explore their potential, to maybe having their own business or side hustle or whatever it is.
Quinn Tempest
This idea of purpose can be such a potent way to gain focus as an entrepreneur or really just in life in general. You can look back on your past experiences and see how that purpose has come to life, even though maybe at the time, you had no idea that was its expression.
For example, you did a college magazine and it just seems so creative and so fantabulous. So I don't know if you can look back at your life and say, "has this purpose been there all along in different expressions?" And do you feel like now that you intentionally know that purpose, you can use it to more of your advantage?
Marisa Morrison
For sure, I always knew I wanted to have a career that I was super passionate about because I felt like I had so much creativity to offer whatever my career looked like.
Initially, I really wanted to be a magazine fashion editor. I really wanted to be an accessories editor. I said: "I wanna be the accessories editor at 'Teen Vogue.'" That was like the end-all-be-all. That was what I wanted.
But, really, that was an example of having a creative job at a brand that I connected strongly with. I knew that if it wasn't "Teen Vogue," it was going to be a creative job that I felt really connected to. So I started interning in the fashion world in New York City when I was still in high school. And those experiences opened my eyes to the career possibilities within the fashion world.
Interning is one thing, but then creating things yourself is another important thing to do when you're exploring what your career could look like.
So, that's when I started the lifestyle magazine at Boston University where I was in college. I was a magazine journalism student. It was incredibly challenging. Printing, getting advertising, all of those real life things to figure out, that was the hardest part. But everyone loved it. It was so much fun, and the magazine still exists today. That was my biggest entrepreneurial adventure and undertaking prior to "The Neon Tea Party." And it really taught me a lot of what to do, what not to do.
The other experience that contributed to my decision of starting my own business was the jewelry company that I worked for before I started The Neon Tea Party up again. It was very small, which I loved and which is why I wanted to work for them because I knew I wanted to be in the nitty-gritty.
Managing so many things and wearing so many hats and keeping everything afloat and interesting at the same time, well – that gave me a lot of confidence and chutzpah to start my own business.
Quinn Tempest
I had a very similar experience, my first job out of college I ended up working for this event marketing agency and I was just thrown in. Through that experience, I learned almost everything I needed to know to run my business a few years later.
It was hard at the time, but you learn all those basic foundational skills that are so essential.
When we are forced to put our hand in every pot in a business before it's our own, that's the most potent primer that we can have for becoming an entrepreneur.
Marisa Morrison
Every experience you have, even in the moment if it doesn't feel like this is exactly what I wanna do with my life, every experience is a learning opportunity.
I think the further you go along in your career, the more you realize that you're tapping back into those things that you learned. It all comes together to create exactly what you're able to do because you have the accumulation of all those experiences under your belt.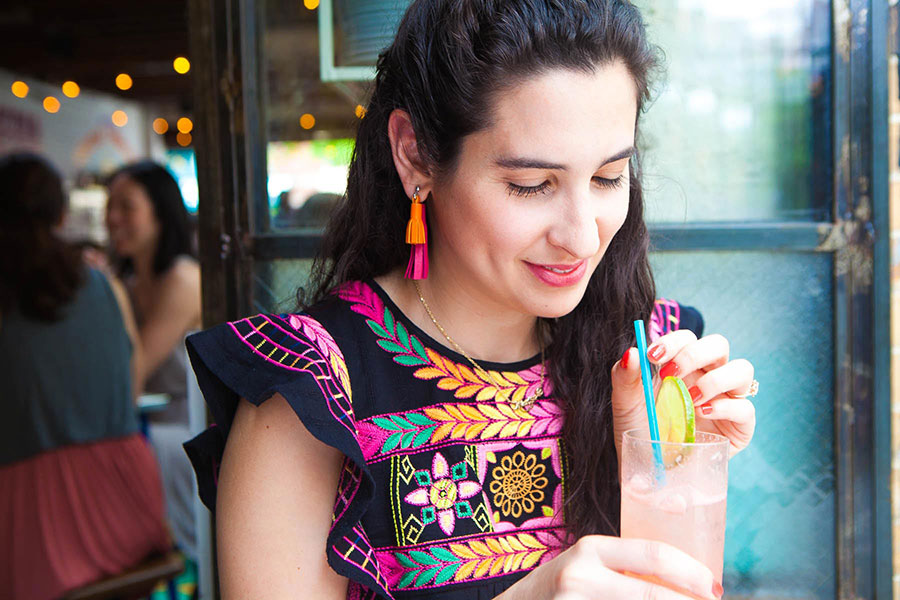 Quinn Tempest
I think that's so important for beginning entrepreneurs to know that you can take opportunities that might not feel 100% aligned with where you want to be eventually, but as long as you approach it with a mindset of "what can I take from this to build something that's meaningful for me and how can I reflect back on other experiences?" Take the little gems and those little building blocks, because they will then inform everything I do in the future that I create on my own.
Marisa Morrison
Having a variety of experiences gives you the skills and the self-confidence to start something. When you start a business, you're wearing all of the hats at once. So if you have intro level skills into a lot of different things, then you can get something up and running.
Over time, you can hire people who are specialists in those areas or train someone and encourage them to grow within that space and take that off your plate.
Eventually, you circle back around to where your superpower really lives. And that's when the real magic happens. So, even in the beginning starting a business, you may still feel like all over the place and doing a lot of things, but at least you can lay the groundwork to grow.
Quinn Tempest
My entrepreneurial journey has been very cyclical or circular. You have to build the foundation. You have to grow. You maybe have to hire. And then you have to keep coming back to that place of: "What is my superpower? What is my purpose? And how can I continually refine my business systems so that I'm offering that superpower more and more as I grow?"
I know you've been really working on that. You got all the stuff in order for your business. You got the website. You built the shop. You started pulling products together to sell. And then in 2019 and beyond, you're really setting a foundation to take yourself out of doing all the things and getting back to that core purpose of you leading with that superpower of helping making crafting cool.
What was that decision like when you decided you needed help? What was the thought process that you went through in that phase and then kind of in the latter half of last year?
Marisa Morrison
For a year, I was pretty much trying different business models. At the time, I was very unclear about what the business positioning was.
At one point, a friend invited me to go to a morning networking meeting as a guest. You are invited to stand up and give your elevator pitch.
I had an "elevator paragraph" because it took so much explaining to say what I was trying to do! That experience really made me realize the importance of having a very clear mission that people can understand, digest, and connect with.
The craft that I had come to grow an expertise in was pom-poms, which is still my main craft area of expertise. There's no other person out there who's marketing themselves as purely a pom-pom teacher!
So what that meant was really focusing on teaching them, becoming really associated with them. I knew that I needed to create a new ecosystem for the business, which is why I decided to invest in a new website and go through a whole rebrand.
When we talked about designing a new website, it was a way more involved process than just designing a website. It was really defining the business in terms of what the business stands for, what our offerings are, and how people can engage with the business. So, it was a humongous undertaking that was super exciting and fun.
The simple explanation for why I did it was I kind of said to myself, you know, "If I were launching a brick-and-mortar version of this business, I would want that space to be gorgeous. I would want it to be really accessible, really easy to get to, really beautiful, and put everything into making it a wonderful experience."
I think the most important thing to think about when you are an online business is your website should be the same way. It should have that same experience and you should put the same time and love and investment into your online presence as you would if you were building out a brick-and-mortar space.
Now this year is the year of foundation. I want to learn how to make steps toward scaling this business and do a lot of cleanup too. When you're spending a lot of time learning while you're doing things for the first time, a lot can get messy. Your accounting can get messy. Your systems could be messy or non-existent. This year it's super important to me to really streamline all of the elements on the internal side of things of the business and really setting up for growth in 2020.
Quinn Tempest
I've actually been mapping out the transformation that many purpose-driven entrepreneurs go through on this journey.
A lot of what you did last year is I call "the building phase" where you're kind of just throwing clay at the wall, seeing what sticks, getting kind of the bigger building blocks set up.
Then I call this new phase that you're kind of calling "foundation," I'm calling it "optimization."
This is a stage that a lot of entrepreneurs go through. After they start to see success, they start to understand really what resonates with their audience. They've put a lot out there, but now it's time to organize and bring it back to this core focus and this core purpose. And I know that's a lot of what you've been focusing on.
That was my year last year where I said to myself, "How can I make everything I do easier on me most importantly but also provide my clients with a better experience all throughout the process?" That whole thought process took me to places I never thought I'd be in my business because I've been able to set up systems to get out of my own way.
So often, as entrepreneurs, we have our hands in everything and we are doing #AllTheThings. We consistently block ourselves from growth just because we don't take time to step back, look at the landscape of what we built, and say, "How can I make this even better?" Same thing when it comes to our lives in general.
From what I've heard from you a lot of your decisions are based on, "Well, what is the quality of my life and how do I want that to be? And then what do I need to do in my business in order to set up my personal life for success?"
I don't know if you can speak to anything of that balance of making intentional decisions for your business that will help your life as well as vice versa. Because for you, and I think for me too, there's not really much of a boundary there. There's not too much separation. And although we want it, there's a fluid back-and-forth between the two.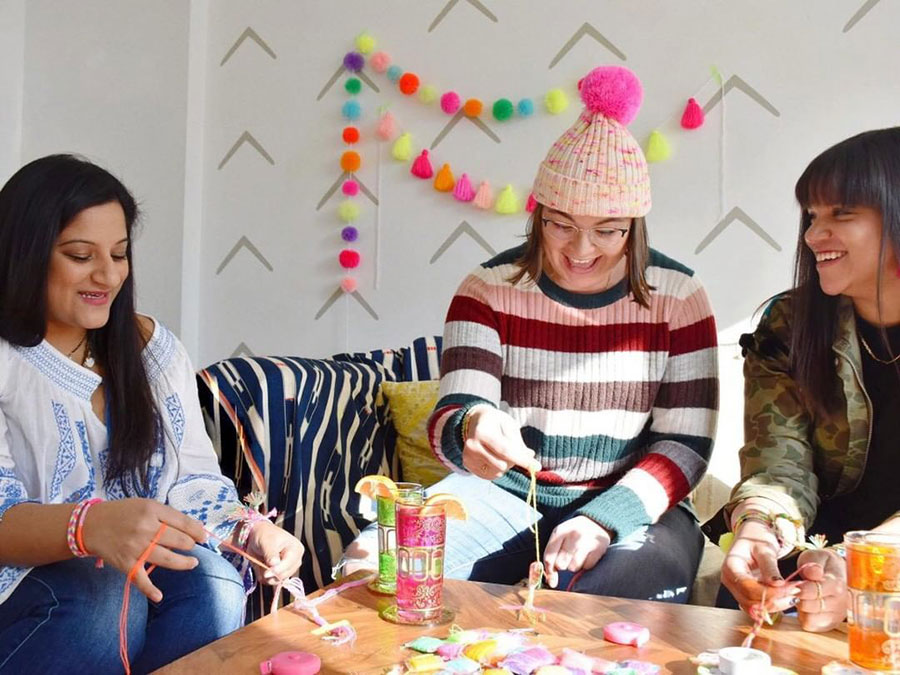 Marisa Morrison
Well, you're a huge inspiration to me in finding that balance. I listen to a lot of podcast interviews with entrepreneurs. And one theme that is in so many of these stories is the period of burnout. It's something I never wanna experience.
There's sort of a boundary on working really, really hard in your business but knowing when to take a pause and recharge. And I'm still constantly battling with where that line is.
I think every day I'm getting a little bit better at knowing how to schedule my days and weeks and knowing where to work in breaks and not feel guilty about it. What I'm working towards this year is based on my experience in the last couple of years of feeling really willy-nilly in terms of making decisions and not really having a concrete plan for what am I trying to achieve.
This year is the first year where I have a roadmap for the year that goes into next year. That alone is so empowering.
I feel like a different person than I was the last year or two because I know what I'm working towards and I know what my ideal timeline is. I think having that plan is giving me so much peace of mind because I know where my boundaries are in terms of what I'm trying to do.
I'm trying to not make myself feel as bad when things don't work out and I'm trying to not make myself feel bad about if other things that aren't on my goal list happen to fall by the wayside. And that's just the hard decisions that you have to make and the hard boundaries you have to set as an entrepreneur. Otherwise, you're never going to sleep and you're going to get to that burnout phase thinking that you have to do everything, please everyone, and just drive yourself crazy in the process.

Quinn Tempest
My yoga teacher always used to say this quote. It went something like, "It's less important how you are than how you are with how you are."
You're gonna break your own heart by judging yourself. And I think this has been a lesson I've had to learn too because I was a perfectionist, and still am in many ways a recovering perfectionist.
I have felt that I have to do everything and have to get it right. But, the more I'm in business for myself, the more I learn that there is no right or wrong. It's just what decisions I make, how I make it, and how I handle myself along the way.
You mentioned the word willy-nilly. And I think that's so interesting because it's something I hear a lot – that feeling of having everything all over the place and not being able to get anything done at the same time.
I have clients come to me all the time saying, "Well, you know, I just post on Instagram when I can because I don't have time. But I really know I need to, and I just don't know how to plan ahead." And I just say, "Well, what's your priority? How can we create a system around that priority and then keep you honest about making that happen?"
The more you can think strategically, the more you can think ahead and then align your day-to-day actions around your larger goals, that's where you get that alignment. That's where you tap into this empowering state of being because you're not reactive anymore. You're not at the whim of your thoughts and your anxieties. You're intentional and you are making the decisions for yourself to create the kind of life and the kind of work that you've always wanted.
I think that's really where purpose-driven entrepreneurs can get to their peak, is when they can set up the systems. They can get out of their own way. They can be proactive and just really bring their ideas to life.

Marisa Morrison
It's hard to find the time to do create systems.
But, it's necessary. Even just planning ahead to help you plan ahead for what comes after that is already a way to give yourself peace of mind and set the intention that you're going to make the time to do it. It is hard to just make the decision to take these big undertakings on for creating structure within your business. So, plan for it.
I knew that once the holidays were over, it was going to be January and I was gonna sit down and start getting to work and start organizing the business. Also, to not put too much pressure on myself this year to have so many product releases, to have so many online course releases.
Really taking this year to put that structure in place so that we can get back to that next year and have it be on a scale that we've never even done yet. I think planning that time to put that structure together is a good approach to take if you're unsure of where to start or when to do it.

Quinn Tempest
I'm in the same boat. I often over commit and then I realized that things take me three times as long as I estimate and I end up having so much more going on! Because I thought what I was taking on I could manage, and then I realized that it was too much. I'm honestly still not that great at this. I'm working on it.
We have to learn how to say yes, say no, and also to take time out when we can focus on growth and when we can focus on other foundational building aspects.
And I had a question too because I see you always being with other solopreneurs, other entrepreneurs. And I know your husband, Sam, is a huge support system for you. So, have you intentionally really looked to grow that network to help support you and how have you seen that help you move your business in the direction it's going?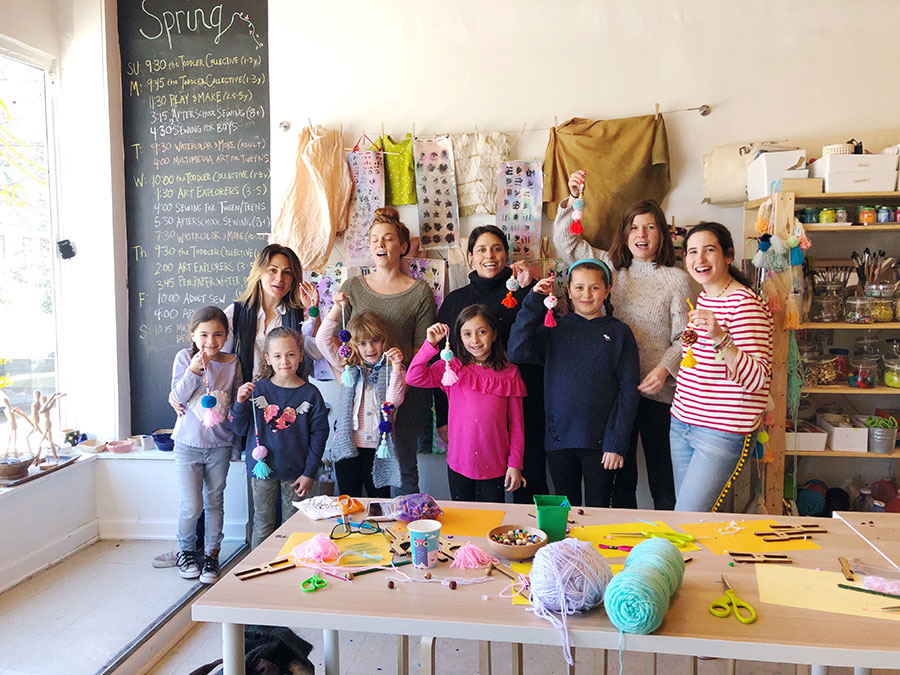 Marisa Morrison
Well, I'll give Sam a shout out. Sam is my husband and he is my partner in crime in life and my biggest cheerleader, especially when it comes to The Neon Tea Party.
I'm really fortunate that he gets what I'm doing. He also loves innovation. He works in advertising. He saw the potential for The Neon Tea Party from the beginning along with me, which is why we decided that this was a decision not just for me but for us as a team. And he's my sounding board.
Every day when he comes home from work, he's on to his second job listening to me and helping me problem-solve because I'm sitting here alone all day.
If you're a solopreneur, you know the feeling where you're making decisions by yourself and you just need someone as a sounding board. He's all that and more for me. I feel so unbelievably blessed in addition to him having the biggest heart and being the most wonderful person that he really gets what I'm trying to do here and is a great resource.
In terms of surrounding myself with other female entrepreneurs, as I was starting The Neon Tea Party, I just started connecting with people that I was already friends with who have their own businesses or side hustles. We would go and get lunch or get drinks after work and talk about what's going on for us and ask each other questions and help each other out.
After a while, I'd had so many of these lunches and drinks and dinners and phone calls and said: "I feel like everyone should just get together and meet one another because all of these women are so awesome, so kind, so open, and just want to be surrounded by other people in the same place or similar place in their career."
I also wanted to grow"The Neon Tea Party, with having more of a giving back aspect of everything that we do. I figured I could kind of kill two birds with one stone, bringing all these awesome women together and putting a little bit of my time towards helping others by creating some sort of ecosystem where we could all come together.
Our group is called The Neontrepreneurs. But it really has nothing to do with me or The Neon Tea Party. It's just a clever title. We had an event earlier this week where we made vision boards based on our word for the year. Each month, a different member will be the host and in addition to hosting, have the floor a little bit to share more about their business, what they have going on, and ask for help in any way from the group sort of on a larger scale, which is the incentive to hosting.
Having this group of women to turn to on a regular basis is so important for any female entrepreneur, any entrepreneur in general. You really should have people in your life who are in a similar position who get what you're going through and who can commiserate, who can help you, and just help you to not feel so alone in it, especially if you are a solopreneur because you are on your own doing the work so often.
You need people outside of your home to also be that sounding board for you. If you don't have a group like this accessible to you, then start one because everybody wants it. Everyone's looking for it. And it honestly doesn't take much more effort than shooting out an email and picking a location and a date.
Quinn Tempest
As we wrap-up here, is there anything else you wanted to share about your journey, The Neon Tea Party, or your direction of where you're going next?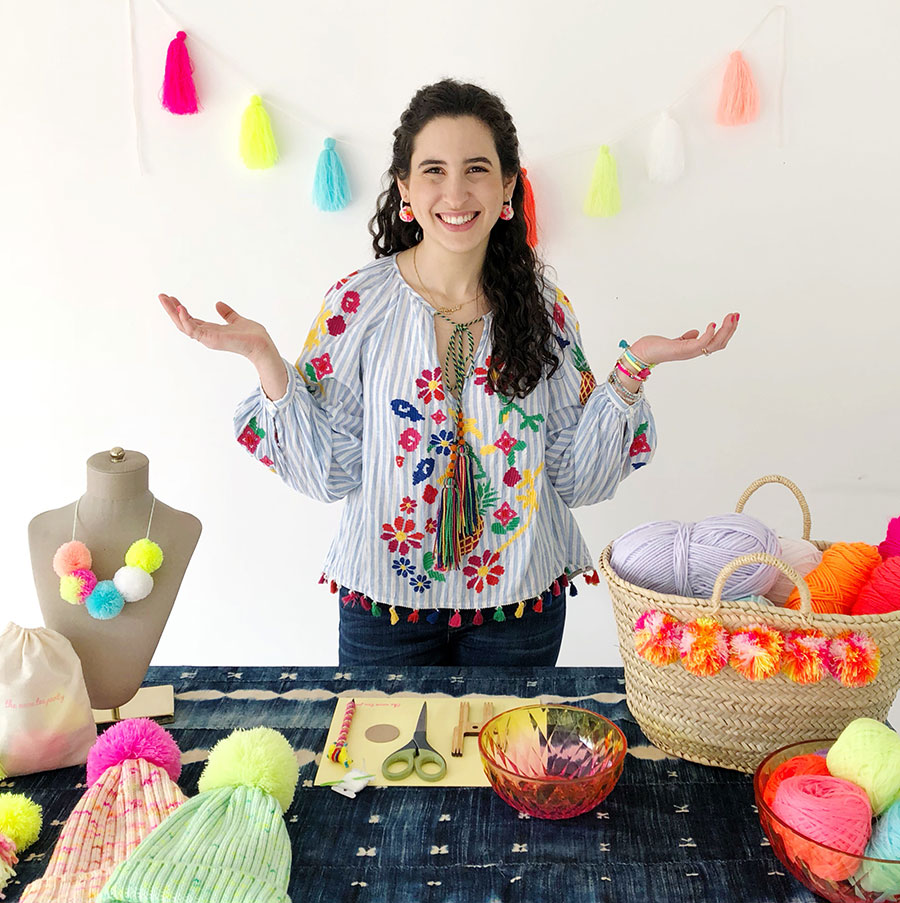 Marisa Morrison
One thing that I wanted to share that we didn't cover was just giving a little bit of credit to my parents who were both creative entrepreneurs. My mom was a jewelry designer. She passed away six and a half years ago.
In her time as a business owner, as a private jeweler, she really worked herself to the bone to provide for my brother and me. Just seeing her hustle to support her family is something that I don't take lightly. It's what motivates me to not take my business lightly and to think about it for the future of my family.
That's something that's really motivating to me as well as my dad who is a big ideas guy. He has always supported my creativity and creative endeavors since I was a kid. When I was eight years old, I was drawing clothing because I declared I would be a fashion designer. We came up with this business idea of a fashion line designed by an eight-year-old and then have adults actually make the stuff. Just having that encouragement from a young age that anything is possible is something that has always stuck with me.
So if any parents are out there, I think it's super important to encourage creativity in your children and to ensure that they know that they could do anything and be anything.
I think having your family as motivation if you are an entrepreneur, is I don't think there's any greater source of inspiration or any greater source of purpose in doing what you do because at the end of the day, it's your livelihood. It's your family's livelihood. There is no greater source of motivation.
Quinn Tempest
I think it's so important for any entrepreneurs who are listening or watching to look at those people who have been throughout your life, whether it's family, friends, mentors, for me, it's been many of my teachers, who have inspired you to really dive into what makes you tick and how to bring that tick to life. And I think that's really powerful that you had two of your very close family members and your parents who are able to really encourage you. Now you're really doing that for yourself and your own family moving forward. So that's super powerful.
Well, as we wrap up here, I just wanted to share where you can find Marisa. I actually first connected with Marisa on Instagram, I believe. So you can find her at @theneonteaparty on Instagram as well as theneonteaparty.com, which was designed lovingly by me but managed by Marisa.
She also has a free pom-pom course that you can sign up for, so if you're interested in learning how to do pom-poms, which I am. She sent me a kit. I have not made it yet, but it's on my list to do. But you can at least get your hands dirty with some poms.
Thank you so much, Marisa, for coming on to this and just chatting candidly about your journey as an entrepreneur. I appreciate it.
Marisa Morrison
Thank you for having me, Quinn. It's really an honor, and thank you all for tuning in. And I hope you found this interview helpful in some way.

Quinn Tempest
For sure. Well, thanks again. And everyone have a good day!