The Purpose-Driven Entrepreneur Interview Series: Connie Solera
Artist, teacher, and writer, Connie Solera chats about stepping into your full creativity, taking risks, and trusting your process.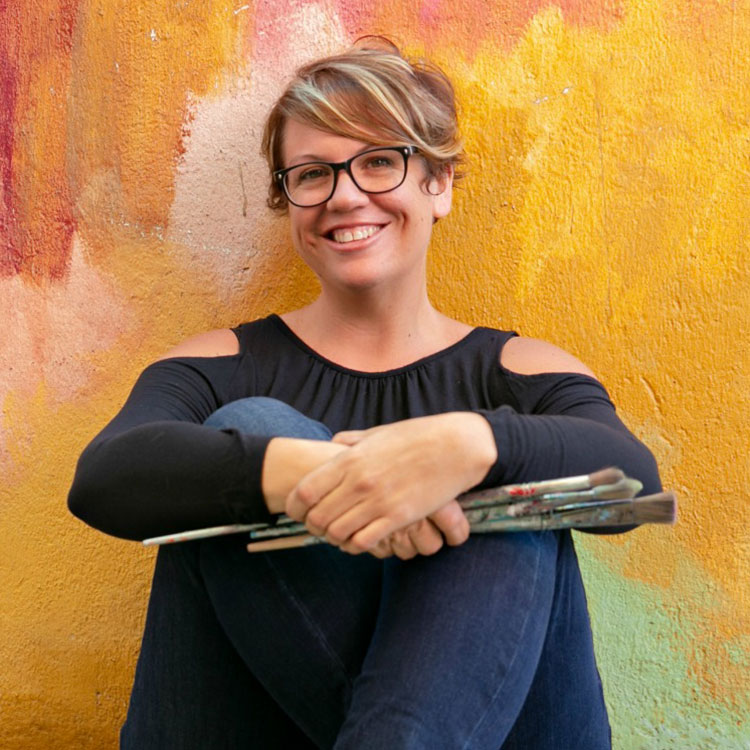 For the second installment of my Purpose-Driven Entrepreneur Interview Series, I chatted with Connie Solera of Dirty Footprints Studio. Connie is an artist, a teacher, and a writer. And she also happens to be one of my longest clients! To me, Connie perfectly embodies what it means to be a purpose-driven entrepreneur. She draws inspiration from her own journey and fuels that into online workshops and in-person retreats that help women step into their full creativity as artists.
Our conversation has been edited for brevity and clarity.
Quinn Tempest
Hello everybody. Thank you so much for tuning in! Say hello to Connie Solera. Today, we're going to talk about this idea of purpose-driven entrepreneurship, which I think, Connie, you embody so well. Can you share a little bit about who you are, what you do, and what your business is all about?
Connie Solera
Sure! I'm an artist and a teacher and a writer. I mostly run online programs and I take women painting all over the world, including Mexico, Costa Rica, Sedona, and Ireland for the first time in 2020. I also run an online program called 21 Secrets. It's been going for almost 10 years where I hire other artists to teach workshops around mixed media. I also run an artist mentoring program called Ignite along with some other online painting courses.
Quinn Tempest
Do you find that there is some kind of common thread that connects all the things you do?
Connie Solera
Well, for me, the common thread is about helping people discover who they uniquely are as an artist. One of the brands that I have as part of my business is called Fearless Painting. It's all about owning who you are as an artist, and where you are in your development. So, I work with artists that go all the way from seasoned artists that went through art school to total newbies.
My mission as a teacher is to help them truly be who they are and scratch away at any of the conditioning or training in order to get to their true essence.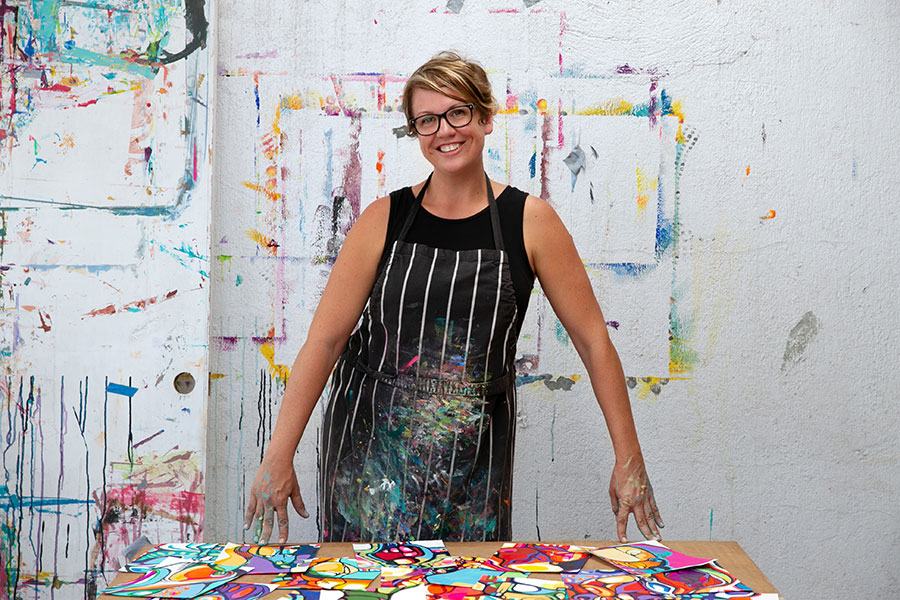 Quinn Tempest
Where do you think that desire to serve comes from? Personally, do you have experiences that have helped you step into your own creativity? Why do you care so much about this mission?
Connie Solera
A lot of reasons. Mostly because I really believe in artists.
Ever since I was young, I've been lucky to always know I was an artist and to come from a family that supported that. A lot of my clients had somebody in their past that strayed them away from their art. So when I work with my students, that's the thing I really want them to feel: that their art dreams are totally possible and that their calling to be an artist doesn't have to follow a cookie-cutter path.
Looking back, I remember when I was young and in art school and this is kind of silly, but I was SO into the color green. Like super, super, super into it! For a whole year, all I did was paint green stuff and I was so in love with it. I sold so many paintings. People loved it because I was so excited about it!
Quinn Tempest
Because they sensed how passionate you are.
Connie Solera
Yes, how passionate I was about green! People got that. They felt that.
That's what we do as artists: we transmit that incredible energy we have inside us, that passion, that excitement for life or whatever it is we're interested in, and we transmit that to others. So many artists think they have to be this or that, but I don't agree. If you just go out there and LOVE green for example, people are going to get it.
Quinn Tempest
You mentioned an expected cookie-cutter type experience that is many people's idea of how to become an artist. How do you help your students find their authentic self and move away from an expected path?
Connie Solera
When I started out in my 20s as an artist, I followed that linear path. I went to art school, I got a degree. I used to say on my website: "I did everything a good artist should do."
But the funny thing is, I would make a body of artwork that I knew and kind of hoped would be accepted in the galleries and be marketable and it wasn't. Then, I would go into my studio and make tons and tons and tons of artwork that was for ME. Art that I loved, that made me so happy.
It wasn't until I started an online community that I actually thought: what would happen if I stopped trying to make stuff that I think is going to sell and just like pour myself into what I love?
What happened after that was was incredible. It was like my business shot through the roof!
My whole philosophy or mission to help others actually comes from my own experience. I don't have any formula or techniques to tell them other than this: Really trust where you're being called. Trust what gets you excited, really trust. It wasn't until I really allowed myself to be myself as an artist that I found my niche and audience.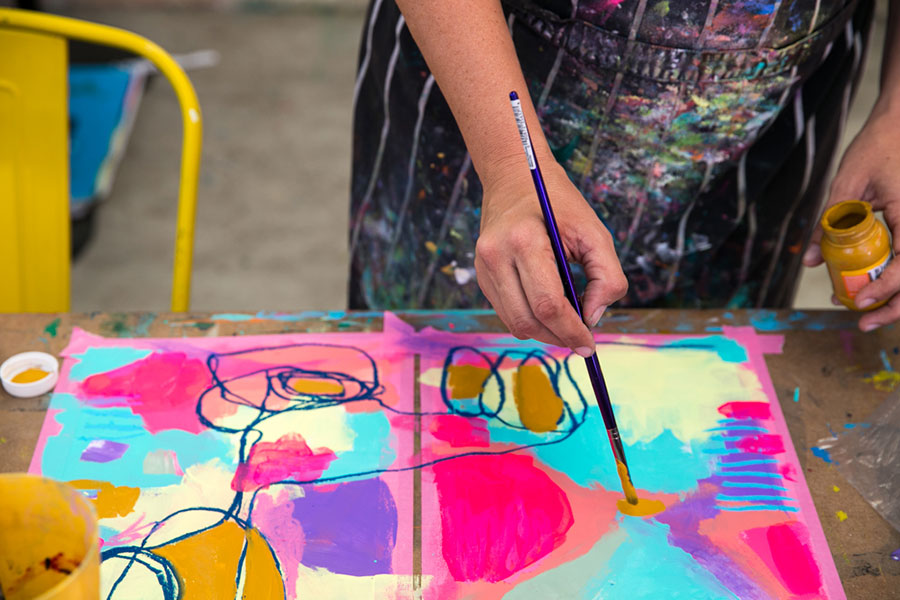 Quinn Tempest
Curiosity is such a powerful thing, especially for entrepreneurs. I think artists are really good at understanding they don't know where they creativity and curiosity may lead them, but instead, it's just what they feel called to express.
Connie Solera
I think learning art helps you practice those muscles for sure. But, I think there's still struggle and pressure to do it correctly. That's why I think it's also important to be smart and gain foundational skills where necessary. As an artist, you still need to learn how to draw, or how to paint, or how to do things like to further your craft. Following your curiosity doesn't mean throwing those things out the window. But I feel really trusting your own path is the key to success.
That's also been my key to success as an entrepreneur because I have that same kind of like desire to just keep following that thread.
Quinn Tempest
Since we're talking about the creative process of art and how that relates to entrepreneurship and how you've built your business, can you tell me how you make decisions in your business?
Connie Solera
I could tell your lovely viewers that my decision-making process is nice and neat and tidy, but Quinn will attest it is not anywhere near that.
I've learned over the 10 years especially that I'm a huge visionary. I can envision where I want things to be, how I want it to be. I get really jazzed about that big idea, but then I have to chip away at it and bring it down to earth. I really have to sit with things for a while and I have to move in that direction to test it out, maybe change my mind a couple of times, and finally find clarity.
To get that clarity, I usually have to go away from my normal environment, even if it means like renting a hotel for just two days in Sedona. I made some major decisions for my business recently when I swam out past some boats in Mexico and just lay there watching the clouds go by. I have to escape to get the full picture.
Knowing my decision making process helps a lot, and I've gotten familiar with it over the years. I realize there is inevitably going to be a breakdown and there's gonna be like probably a few changes to my decisions, so I prepare myself for that freakout.
Quinn Tempest
So you schedule your freakout because you expect it?!
Connie Solera
I do! If something is going to stretch me and my business, I will schedule in my freakout. I tend to want to burn things down right before that happens, and then I have the big girl moment and get back to business. Usually putting money down on something helps me solidify my direction in addition to giving myself a deadline. Otherwise, I wouldn't get anything done. You'll never know 100% if your decision is the "right" way to go, but go anyway, make it work, and then reassess later.

Quinn Tempest
You and I have recently been talking about rebranding your business together. I know that it has taken you three years to make this decision and we've circled back to it a few times. Your brand name for the past 10 years has been Dirty Footprints Studio, but you're now ready to rebrand as a Connie Solera. Can you just share a little bit about the process that helped you define this new direction?
Connie Solera
When I started Dirty Footprints Studio, I had no intention of it really being what it is now today. It started offline as a ceramics studio, so the intention and thought behind it isn't the same as where it landed. When you and I first started working together, all I had was a personal blog and you came in and turned it into something focused.
During that time, I was experimenting a lot, piece-mealing things together. I think this is important for entrepreneurs – this idea of throwing spaghetti at the wall and seeing what sticks – yet so many entrepreneurs think they have to have it all figured out at the beginning. You don't, it's impossible.
What has happened in the last few years is that I've learned what programs really still speak to me, and what I really want to do. I started thinking more long-term.
I also realized I want to make more art. I still want to teach, but I really want create a space where my art can be elevated a bit more. With that realization, it didn't make sense anymore to have Dirty Footprints Studio because it doesn't serve my long-term goals.
Quinn Tempest
We were talking about at the beginning of our chat about your purpose, about helping women step into their full expression as artists. It's interesting how that purpose has come full circle for you because this rebrand is YOU putting yourself out there as the artist. You get to own your full expression, and in doing so, you're also helping other people do that too. I think that purpose and that mission is even more powerful now because you're practicing what you've preached for so long.
Connie Solera
I'll be honest with you, it's the right decision but it's been hard. This last year has been a mourning and letting go of what could have been, of what I did. It's also letting go of a huge part of my identity too. That's been challenge. Part of me wants to retract back.
Quinn Tempest
I understand that. I've found that our business as a purpose-driven entrepreneur is a reflection of our values and what kind of impact we want to make on the world. And we might be figuring that impact out AS we're creating the business. So it's uncomfortable, it's scary, it can be downright awful sometimes. But I think we keep coming back to this idea that we have the ability to make an impact, and that becomes more important than the temporary discomfort.
Connie Solera
To change anything, especially when it's attached to your livelihood, brings up a lot of self-doubt. As an entrepreneur, you have to learn to dance with that self-doubt. I don't think it ever goes away. You've got to figure out that push and pull.

Quinn Tempest
It's scary to take risks when you could be losing money. What have you done to keep the things that are profitable and sustaining, but also fund the big creative risks that you've taken?
Connie Solera
I used to do everything in my business and it was only in these last couple of years that I really realized that for my business to grow – and for me to grow creatively as an artist and an entrepreneur – I need to bring new people in.
Stepping out of my processes and hiring people has been unnerving and scary. When I hire somebody, I know that part of their livelihood depends on me, so I want to be sure it's going to flow and be sustainable for them.
This year, I started to build a team around 21 Secrets because I felt the only way I'm going to step into myself more fully as an artist is if I start to delegate some of the work. There's been a big learning curve around that. But on the other hand, it's been super fun to work with people and have new ideas come up, and have things get done in ways that I would have never thought of before.
It's also brought more space to me creatively. The support is so important because you could float by doing it all on your own, but it would detract your energy from your larger goals.
Quinn Tempest
So true. I hired a part-time assistant last year, and she's been great. Leading up to that decision, I had reached the point of no return. I was spending my time doing things I shouldn't have been doing yet all the while, I knew I could scale my business if I could let go of some things. I still constantly have to gut-check myself and make sure I'm focusing my efforts where only I, myself, can provide the most value.
Connie Solera
As an entrepreneur, I think you need to have that time where you do everything in your business. That's how you learn the mechanics of your business. But then, when you're able to get support, it can help immensely because you've been "in it" for so long. You then just have to learn how to communicate your processes with your team.
Quinn Tempest
I love processes and organization! They allow me to be creative and to step back and look at the big picture. When I'm too far in the minutia and the daily details, I get lost in them. However, I know the minutia is not where I can best serve my business. So, I've had to really focus on building out processes and my project management tool so everything feels more like a repeatable template.
That doesn't mean I'm not creative. It doesn't mean that every single client is the same. It just means that I don't have to have as much guesswork about what comes next. I also can start to look at where I can plug in my assistant or other contractors and act more like a CEO.
Connie Solera
Yes, yes. That's what you taught me. Using Asana has been life-changing. It's taken me a year to fall in love with it, but now I like to even use it for my personal life.
Quinn Tempest
It's a game changer. So many entrepreneurs want to treat their business with a free-flowing attitude. But, then they get in their own way because they don't know what comes next. They don't plan ahead. Especially when it comes to marketing! Planning ahead so all the dots are connected makes marketing more effective. There really has to be a clear strategy behind it, otherwise, it just will fall flat.
Connie Solera
I wasn't organized when I was younger and I had to learn. You have to learn how to become organized. The benefits of learning and changing that story about yourself is so much better than saying "I'm not organized." When you believe that, you waste all your time on things that could be done much more simpler.

Quinn Tempest
To wrap this up, I have a big question: is there any insight or tip or action step that you would give to an entrepreneur who wants to build more purpose into their business?
Connie Solera
First, stop looking at what other people do. I think it's easy to see other people that are successful and lean towards doing whatever they're doing. The clearer you get on your own purpose, the less concerned you will be with what's happening in your market or with your colleagues. You have to put on blinders and do your own thing. The internet makes it really hard to do this, but you have to escape the comparison game.
Quinn Tempest
I love the quote: "Envy is inspiration in disguise." To flip your insight on its head, I believe entrepreneurs can look at others as long as they don't attach themselves to what that person is doing and comparing themselves against them. Instead, look at them almost like a scientific experiment. Notice what they are doing, what key insights you can draw from your observation, and what inspiration you can apply to your own business. This kind of noticing can be so helpful as long as it steers away from comparison.
Connie Solera
The second thing is it is really important to step back from your business a couple of times a year. No matter what, I go to Sedona by myself for a few days. I bring huge sheets of paper and I mind map the crap out of my ideas.
Quinn Tempest
That's so powerful. Many of us work IN our business all the time, but we don't work ON it. Cultivating and carving out time just devoted to your business can give you so much perspective.
I went to Tucson recently, and I ended up coming up with the whole idea of purpose-driven entrepreneurship and how it summed up so much of my work in one phrase. All I needed was to step back, think about the big picture for my business, and formulate an action plan.
Connie Solera
The last and final tidbit I would say is to really take care of yourself. What has helped me find the most clarity in the past year was investing in my own physical health. I prioritized myself and didn't let my business take over my whole life. That's easy to do when you love it, but sometimes solopreneurship is not so sustainable health-wise.
Making that conscious decision to take care of myself helped me bring more purpose to my business because I could be strong in myself. I could be clearer and more present.
Quinn Tempest
That's exactly the reason I started my business was because I was so bad taking care of myself. I burnt out so badly at my first job and landed in the hospital because I never took the time to take care of myself or ask myself the big questions about my purpose and the impact I wanted to make.
I also think there is a difference between hustling with intention during busy times, or hustling with desperation and ignorance. We as purpose-driven entrepreneurs are the vehicle for realizing the impact we want to make in the world. If we're not taking care of yourself physically, mentally, and in all ways, then we can't be the best expression of that purpose.
Connie Solera
That has been the biggest lesson I've learned in 10 years of being in business for myself. I felt this year was the biggest step-up in my business, but all I was stepping up was my self-care. It really impacted everything.
Quinn Tempest
Thank you for being here and for anyone who's watching, I hope you got some good tidbits and good gems from Connie here. She's an inspiration to me!