 You want people to be empowered. You want them to live fully alive!
You are passionate about helping people step into their full potential in many areas of their life, approaching everything you do with a holistic perspective.
You have a sharp, keen insight for what holds people back from feeling empowered, and it lights you up to be able to create ways to help people move past them with ease.
You aren't afraid to tell your own story and struggles, and you are genuine in your connections.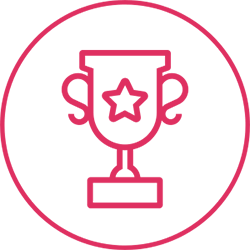 What happens when you fully create your purpose as a leader?
You embolden the people you serve to take action and step into their full potential. You balance your desire to serve others with a healthy approach to your own personal wellbeing. You find ideal collaborators who help you hone your message and build a platform to capitalize on your energy and charisma.
Although your approach is personal, your impact can be scaled, and the bigger it gets, the more powerful your message becomes. Your power lies in your message and your message requires energy and balance, so work with collaborators who can implement your ideas.
OK, I read my purpose profile...
💌 Check your inbox for helpful insights I'll send about how to use your result to take purposeful steps forward in your business! 💌
What is your secondary profile?
Explore all 8 Purpose Profiles to see what other insights you can gather to inform your purpose. Most entrepreneurs resonate strongly with at least two!