 You connect dots like no one else can!
You have a unique talent for bridging seemingly disparate ideas, experiences, and people together in order to build alignment.
You are curious and observant by nature, always learning something new so you can use that knowledge in the future.
Being of service comes easily to you, and you feel a deeper call to use your skills to connect the right people and ideas together in order to make a real difference.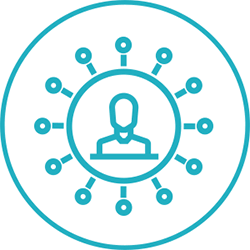 What happens when you fully create your purpose as a connector?
You live in a state of inspired flow, observing opportunities, ideas, and people with a curious mindset and making connections naturally. You are a facilitator, enabling big ideas to come to fruition with ease. You strike a fine balance between your outward interests in other people's ideas and plans with your own goals and projects.
You've honed your purpose on an individual level - connecting ideas and people - and you have the potential to build even greater connections. Think big and don't be afraid to tap into your community-building skills to allow your purpose to touch more people at once.
OK, I read my purpose profile...
💌 Check your inbox for helpful insights I'll send about how to use your result to take purposeful steps forward in your business! 💌
What is your secondary profile?
Explore all 8 Purpose Profiles to see what other insights you can gather to inform your purpose. Most entrepreneurs resonate strongly with at least two!