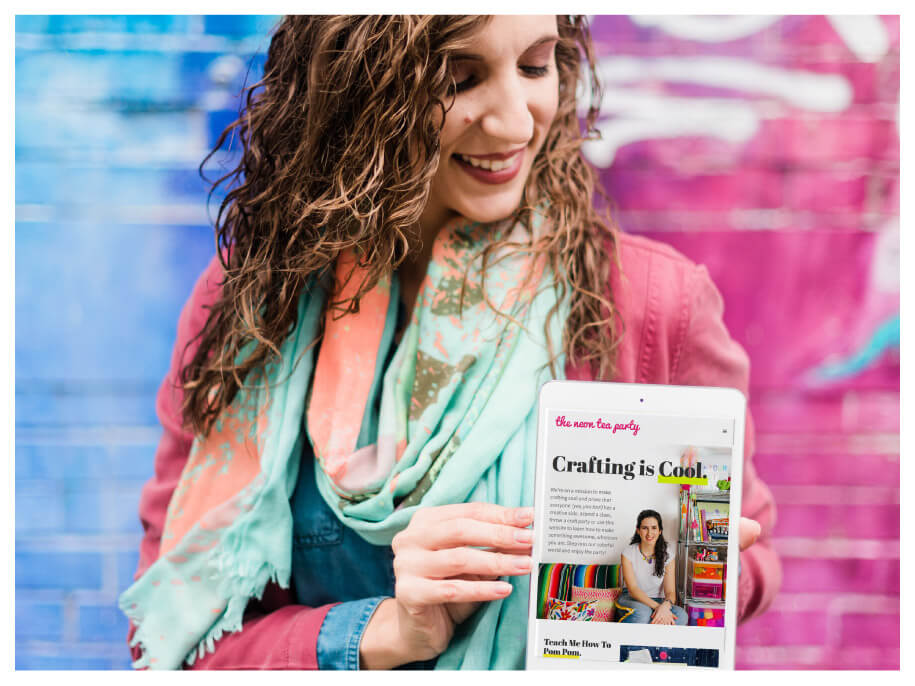 CUSTOM WORDPRESS WEBSITE DESIGN
Your website should be the ultimate expression of your business purpose, as well as a bonafide marketing machine.
"I know that I need a great website, but

I don't know where to start

. I'm done DIY-ing my marketing and want a website that helps me grow my business and expresses everything I have to offer."
Sound familiar? Whether you already have a website that you want to revamp or if you're starting from scratch, I'll be your go-to WordPress web designer, guiding you through the whole project with my fine-tuned, seamless process.
Websites are THE most pivotal element in a holistic digital marketing strategy that grows your business, so I'll help you find clarity not just for the role of your website itself, but for your overarching marketing and business goals, too.
The outcome of our work together will be an attractive AND strategic online home base that will reflect the deeper mission and vision of your business. You will understand the journey your audience takes with your brand from start to finish via your website, and be able to create pathways to turn visitors into customers.
"Quinn did more than design me an incredible site that reflected my vision and values, she helped me to get clear on my offerings and connect to my message on a deeper level." - Kate Towell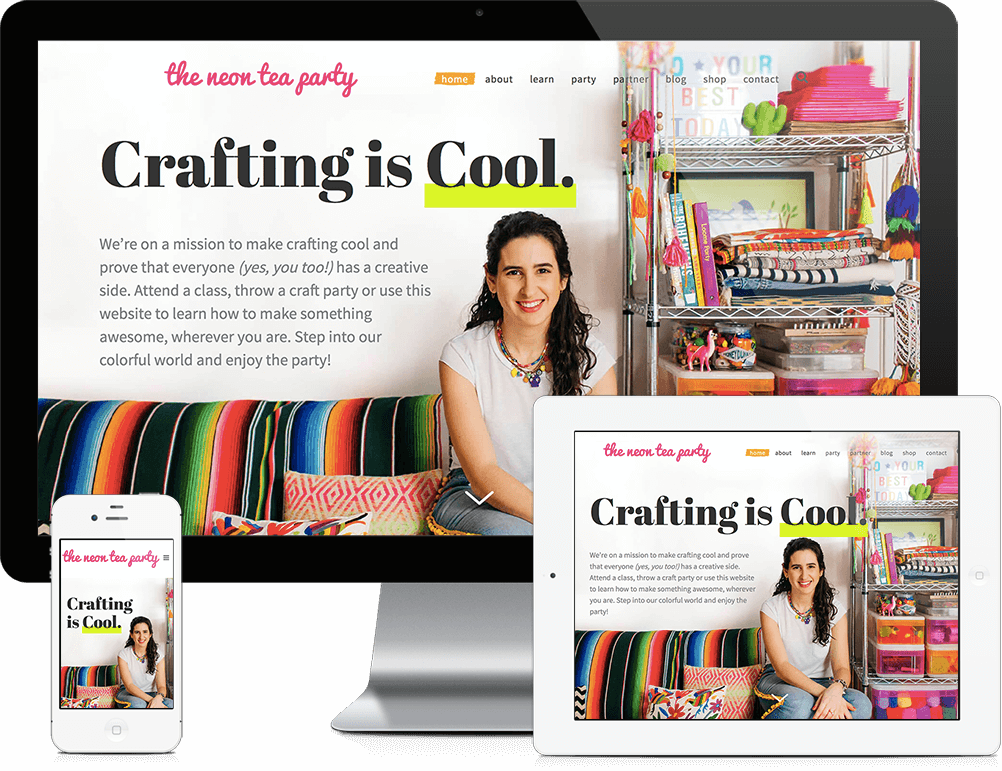 Web design is about way more than just websites
My approach to web design goes way beyond just creating something that 'looks pretty.' It's also more than just writing some code and throwing some pages up on the interwebs.
Your website should be the ultimate expression of the purpose that drives your business forward, and it should be created in a way that is thoughtful, strategic, and built to last.
It should communicate the essence of your mission in order to attract and engage your target audience, guide them through a strategic digital journey with your brand, and provide opportunities to deepen their relationship with you. I've designed a process that is collaborative every step of the way, and structured in a way to help us seamlessly translate your vision to reality.
Yes, I'm ready for a website that is Purposeful AND a marketing machine!
QUESTIONS? I'VE GOT ANSWERS.
Mainly small businesses and entrepreneurs. Browse my portfolio for examples. If you are driven by a deeper purpose and ready to have a website that better reflects your vision and helps you get where you are going, then we may be the perfect fit. I work with creatives, coaches, consultants, and small business owners to bring their brands to life online. Take a look at to see examples of my past work and testimonials from my clients. 
Because it's the best! Nearly a third of the world's websites are built on WordPress. It is a robust content management system, so that means you have complete control over your site once it is complete without having to worry about code or other major technical things. 
It can scale as you grow your business and we can build in any kind of functionality you want - e-commerce, blog, and more.
A lot of my clients come to me when they're ready to upgrade from Squarespace. Although Squarespace is amazing when you are starting your business or blog and in DIY mode, it can be limiting. This is especially true if you want to use your website as a marketing hub.
WordPress, on the other hand, can scale with you as you grow. Think you'll need a blog, e-commerce store, or login portal down the road? All these things are possible on WordPress and you'll have much more control.
Some people think that WordPress will be more difficult to manage, but that's not true. I build my sites using a page builder that makes creating new pages or posts as easy as dragging and dropping elements. Similar to Squarespace or other platforms like it, but WAY more powerful. 
My digital marketing expertise. I was Director of Marketing at a digital agency for 5 years and have built a reputation as a speaker, teacher, and workshop leader across a range of digital topics at events around the country.
I'm not just a skilled designer; I know how your website can and should play an integral role within your holistic digital marketing strategy. You can look at my portfolio for examples and kind words from past clients.
My expertise also stems from my work in the corporate content marketing world - so you'll have a serious leg up in creating a content journey that converts when you work with me, and we'll talk about how to utilize content in a way that fuels your business. Most designers don't have this deep expertise in digital marketing, and I aim to infuse all the work I do with best practices I've learned from a decade of experience in the field.
Content and imagery. Content includes all the written text on your website. But don't be too overwhelmed - I work with you to create a detailed content plan for each page and I will also do light editing. If you prefer not doing any copywriting yourself, I can offer that as an additional service or refer you to someone who can help you. Also, imagery and high-quality photography is vital to creating an attractive website. I recommend working with a professional photographer to get photos taken if you don't already have any, and I can provide guidance on what I will need.
Nope! I do design and development, so you'll work directly with me throughout the whole process, from strategic planning to design, development to launch, and beyond.
10-12 weeks, longer if branding is involved. So many people want websites 'yesterday' when they reach out to me, but please know that a rushed timeline doesn't serve you or the design process. I structure my web design project schedules to give us ample time to collaborate and create a website that will serve you for a long time to come.
Each project will have a slightly different timeline, but this is a good window to keep in mind. I will provide benchmarks and an estimated launch date after our initial strategy call. Please also note that I often have a waitlist, so depending on my calendar, our project start date could be 1-2 months out from when we first chat.
Absolutely, if you host your website with me. Many of my clients don't want to worry about the technical aspects of keeping their site up-to-date, so I'm happy to do it for you. Because of my clients' poor experience with entry-level hosts like GoDaddy and Bluehost, I bundle ongoing support when you sign up for my monthly hosting plan. I highly recommend this for all of my web design clients so I can save you the nightmares! I will host your website on my super fast, secure server which comes with a load of other benefits including nightly backups and a free SSL certificate. Ask me about these plans and I'll provide more info.
You sure can. I set-up your website so it's easy for you to make simple changes to your site, add/remove/change content, and publish new articles. I even create custom training videos for you so you can refer to them whenever you'd like. Lastly, I build my web designs using a page builder, which means adding elements is easy as dragging and dropping them. There may still be things you want me to do that are more technical in nature, or beyond what you feel comfortable with. If that's the case, I'm happy to jump in to help. Small content changes are built into my hosting and support plan as well.
Basic SEO is built into my website design projects. I cannot guarantee any major improvement to a search engine ranking, nor can I promise to get your site higher up or to the 'top of Google' without intense, ongoing SEO work - which is not a service I offer. That being said, I build every site and individual page in a way that is accessible to search engines in an effort to increase its chances. This includes best practices like meta titles and descriptions, on-page optimization, internal links, sitemap submission to Google, 301 redirects, and light keyword research. 
Of course. All my web designs are responsive - which means the layout adjusts depending what device it is being viewed on (tablet, desktop, phone). This is Google's preferred method of design and they also consider mobile-friendliness a ranking factor in search.
It varies. I custom quote every project I do, based on the scope and functionality you need. After talking with you, I will provide a detailed proposal. My web design projects start at $6,500. The best way to get a better idea of how we can work together is filling out my form here.
Yes. I always split up my projects into monthly payments. The number of payments can be decided between us once you receive and review my proposal.
Woo! If you're interested in working with me, contact me first by filling out my inquiry form, and make sure to select the option "I'm interested in working with you on a design or marketing project." If it seems like a good fit, we'll schedule a 30-minute consultation to discuss your vision. I'll then provide a proposal with a flat rate price and projected project schedule. I only a hold project start date on my calendar after receipt of a signed contract and non-refundable deposit. Most of my projects are scheduled at least 1 month in advance or longer, depending on my availability.